Mirage Gstaad is a new outdoor site-specific sculpture installation by artist Doug Aitken. The artwork will remain on view in Gstaad, Switzerland over the course of two years, reflecting and interacting with the mountain landscape over the changing seasons. This minimal structure functions entirely in response to the landscape around it, creating a visual echo-chamber that endlessly reflects, a life-size kaleidoscope that absorbs, transforms and responds to the surrounding dynamic landscape. The artwork will premiere over the weekend of February 1-3, 2019 at Elevation 1049. This third iteration of Elevation 1049 is titled Frequencies and curated by Neville Wakefield and Olympia Scarry.
In the tradition of land-art as a reflection of the dreams and aspirations projected onto the American West, Mirage Gstaad presents a continually changing encounter in which subject and object, inside and outside are in constant flux. With every available surface clad in mirror, it both absorbs and reflects the landscape around in such ways that the exterior will seemingly disappear just as the interior draws the viewer into a never-ending kaleidoscope of light and reflection.
As Mirage Gstaad pulls the landscape in and reflects it back out, this classic one-story suburban house becomes a framing device, a perceptual echo-chamber endlessly bouncing between the dream of nature as pure uninhabited state and the pursuit of its conquest. Situated against the backdrop of Videmanette in Gstaad, Mirage Gstaad will bring the idea of the Manifest Destiny and the American West into contact with the European landscape and the tradition of the sublime.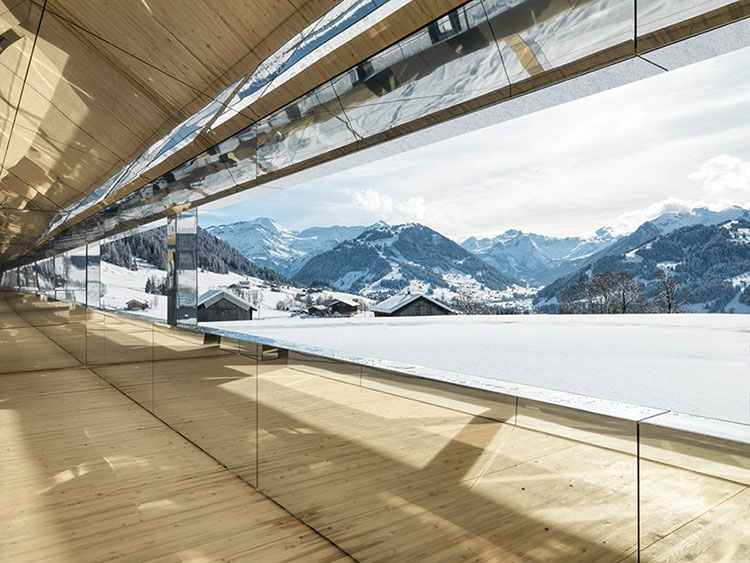 Utilizing a wide array of artistic approaches, Doug Aitken's immersive works lead us into a world where time, space, and memory are fluid concepts. His work has been featured in exhibitions around the world, in such institutions as the Whitney Museum of American Art, The Museum of Modern Art, the Vienna Secession, the Serpentine Gallery in London, and the Centre Georges Pompidou in Paris. Aitken earned the International Prize at the Venice Biennale for the installation electric earth, the 2012 Nam June Paik Art Center Prize, and the 2013 Smithsonian American Ingenuity Award: Visual Arts.