Well known for her colorful large-scale installations, Emmanuelle Moureaux has unveiled her first public sculpture in Tokyo.  Dubbed "mirai" (meaning "the future" in Japanese), the artwork visualizes the next 100 years to come (2020 to 2119) in 100 different shades of colors. The colorful future is supported structurally by the past, represented through white numbers. "mirai"  – forms part of Moureaux's ongoing '100 colors' installation series – is located in Green Springs, the new well-being district in Tokyo.
Inspired by the layers and colors of Tokyo that built a complex depth and density on the street, and the traditional spatial elements like sliding screens, she has created the concept of "shikiri", which literally means "dividing (creating) space with colors". Using colors as her signature, her works extend to a number of projects, including architectural design for Sugamo Shinkin Bank, space design for ABC Cooking Studio, art installations for UNIQLO and ISSEY MIYAKE, "100 colors" art installation series, and "Forest of Numbers" at The National Art Center, Tokyo.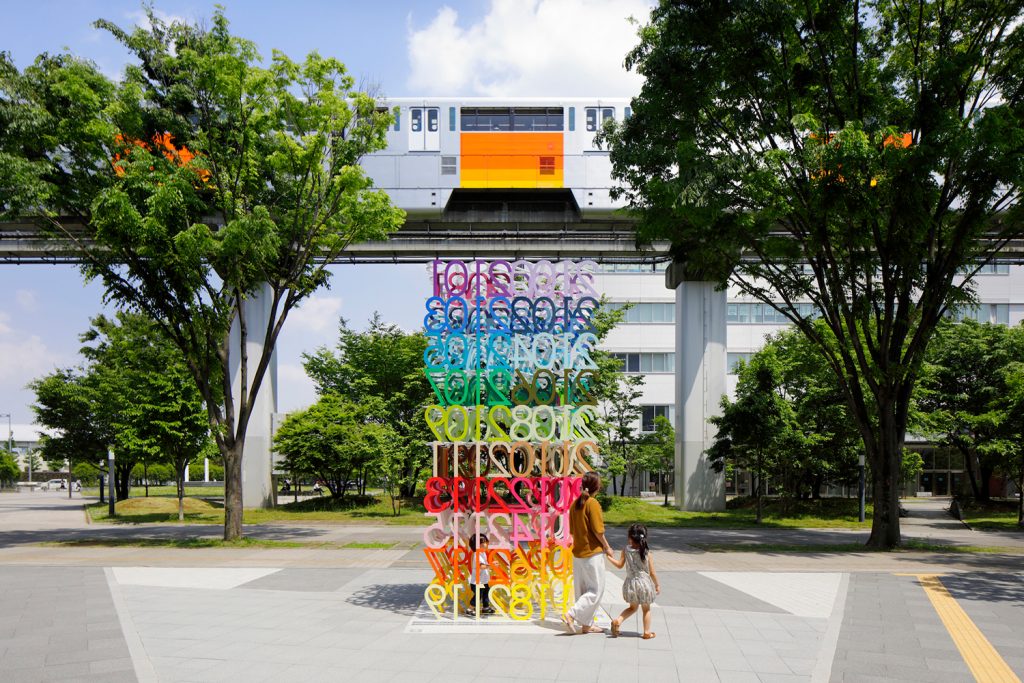 "100 colors" is an installation series began in 2013, which forms space using 100 shades of colors. Emmanuelle wishes to give emotions through colors as she felt from seeing overflowing "colors" in Tokyo when she first visited in 1995. She also wishes to give opportunities for people to see, touch and feel colors with their senses to become more conscious of colors that exist around them. 
In "100 colors", Colors are explored in various forms depending on the environment, to maximize the beauty of colors. 100 colors entering the body with a glance triggers a physical response to engage with the sensation of colors. The installation series will continue to travel around the world.
"100 years condensed in mirai
To welcome a lot of dreams
The city will change as people change
2020 will become the past
Dreams overlapping with years
Creating an infinity of colors
Dreams condensed in condensed 100 years
Smile and imagine
Colorful future"
emmanuelle moureaux