Toby Johncox, head of mortgage sales at Enness, the world's leading brokerage of high net worth mortgages, in conversation with Nicolas Roux, Founder of Rive Gauche London, the luxury interior design company. They discuss some of the common mistakes people make when renovating a luxury property.
So what are the typical mistakes people make when approaching big renovation and design project on a luxury property? – Toby Johncox 
The first thing is having a realistic or clear objective. For example, we had a client that gave us a lower budget than he was originally planning to invest on the project. So obviously we planned and designed the project to the budget, to a certain standard. But we arrived on site, and found the client had more budget for the project, which meant changing things on site. And that's where things start to go wrong, because contractors will have to price variations, and it will delay the process, because there's a lot of pre-planning that goes into a project. So this is probably one of the main mistakes is not really being sure of what you want to achieve and what you want to spend. And then changing your mind half way through the project. Because that just delays everything. And once you've got your contractors on site, and you start to change your mind and delay your construction, that's where it's really going to cost you money. Because with the contractor's team on site, waiting for instructions, you still have to pay them but you're not actually progressing on your project. And that's where the cost can really ramp up. – Nicolas Roux
So unrealistic expectations is a big mistake and under-estimating the cost of the construction. But what does it take to deliver these super luxury properties? Attention to detail? What are the key things? – Toby Johncox
Some people believe that quality is just achieved by having more expensive finishes, more expensive products, and then you've got a beautiful property. But actually there is more to it than just the finishes. The process of going from a blank sheet of paper to a finished product on site is drastically different because you have to really control every detail on the project. So the first thing is really understanding the finished products, what you want to deliver. Here's an idea of what we are talking about.
In a project we also want to make sure to integrate all the infrastructure. So the mechanical, electrical and plumbing (MEP) aspects of the design and construction is integrated in the property. It works but you can't see it. It is one example of what makes a difference between a super-luxury type of property and a more typical property where you have, for example, radiators on the walls and everything is visible.
Another example to express the attention to detail is with a staircase and the relationship between the stone and the timbers and the way they're going to meet together. If you're going bespoke with a straight metal railing that goes onto every step, the process of doing that means every detail will have been drawn up. It will be prototyped by a specialist, we'll test it, we'll review it, and then template it on site and install it. From a time element that will have to be factored into your project because it will take much longer to get that manufactured and installed properly as opposed to just buying a product that's already made. And that applies to every detail of bespoke items from the staircase, the skirting, the door architraves etc. – Nicolas Roux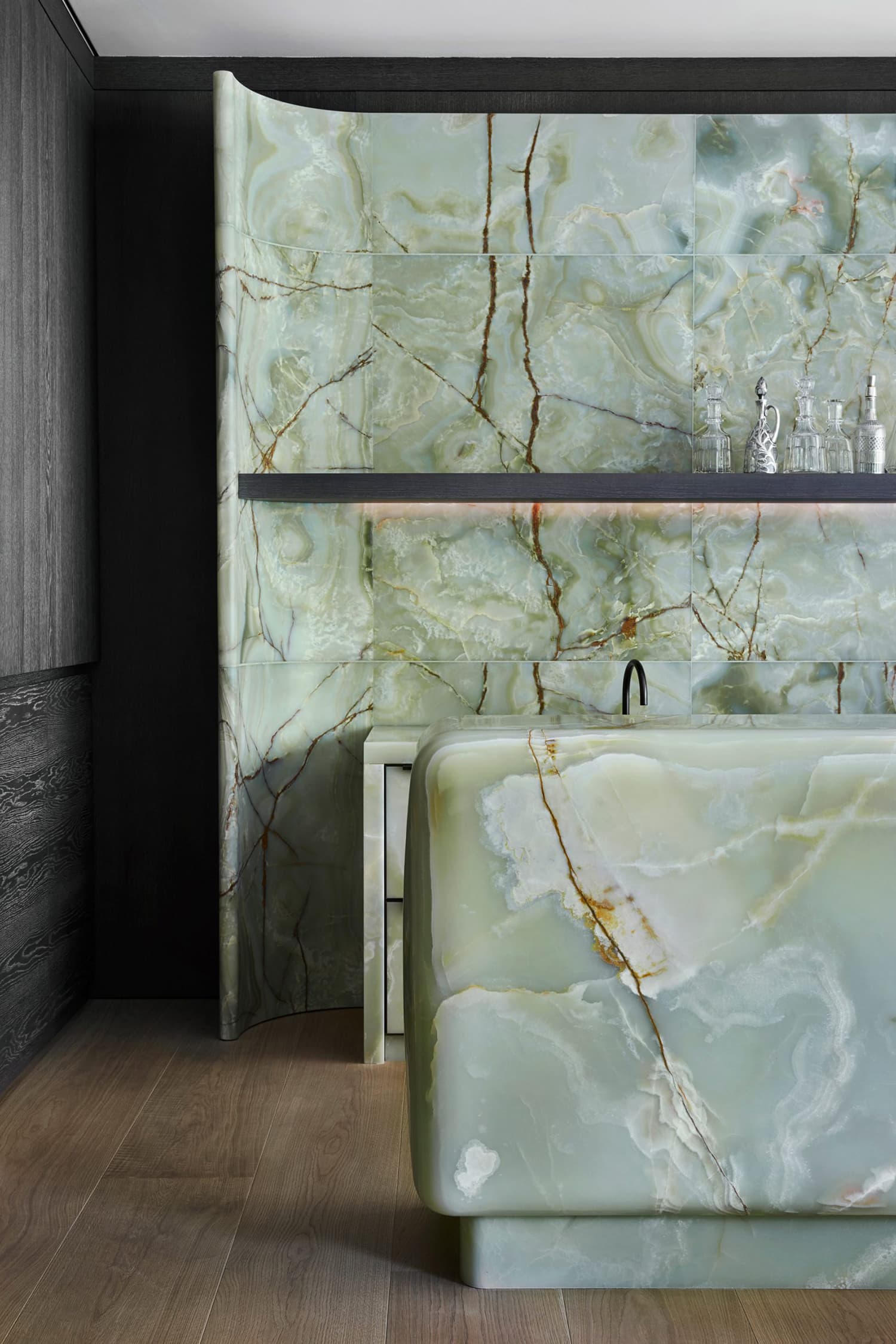 If you plan all that at the start, it all fits into your plan. Whereas if you decided at the last minute that you want a bespoke staircase instead of an off-the-shelf staircase, for example, then the delays are significant. – Toby Johncox
On any project, you might work with 30, 40 or 50 different specialists. So first, you need to understand their process individually and then you need to make sure that those people are well connected together. They're all specialists, artisans creating very beautiful objects, but that's why on projects like these, you need to be very careful in the planning from a timing point of view as well as for detail elements. – Nicolas Roux
It's very interesting the importance of pre-planning on costs, time and bespoke finishes when developing and building luxury properties in London or globally. – Toby Johncox