At this year's Tokyo Motor Show, Mitsubishi has revealed the Mi-Tech concept car, a plug-in hybrid buggy-type vehicle of the future. The electric SUV features pared-back bodywork that's both sleek and blocky and windshield that doubles up as one big Augmented Reality display.
A sense of progressiveness as an electric vehicle is expressed through the light blue body color and secondary copper color in a motor coil motif on the grille, inner wheels, and interior. The front end adopts MMC's signature Dynamic Shield new front design concept. It uses a satin plated color in the center of the grille, and copper as a secondary color to accentuate its expressiveness as an electrified vehicle. T-shaped headlights are embedded in the front end to emphasize a distinguishing outward appearance.
On the lower bumper, the aluminum skid plate is placed on both sides to protect the body, while the interior has an air intake. On the sides, the highly raised overfenders and large diameter tires project a high level of mobility plus power as an SUV, as well as the stability to thoroughly grip the terrain. The body radiates grandeur and sharpness with a design reminiscent of a metal ingot carved in a cutting machine, while the use of a side step on the carved sides balances utility with design.
The rear-end was designed with large and bold hexagon carved from metal ingot to emphasize the robustness of SUV. The T-shaped tail lamp shared the same design pattern used on the front end.
Inside, a horizontal instrument panel and functional design makes handling easier. The horizontal theme is further accentuated by copper lines added on the instrument panel and steering wheel. Keyboard-shaped switches are positioned atop a center console with a horizontal theme, and the front handgrip also functions as a hand pad to make the switches easy to operate. Functions are presented in a straightforward manner, easy to understand just by seeing them and with a reassuring feel when pressed.
The power generator in the new PHEV drivetrain is a lightweight, compact gas turbine engine-generator in place of the traditional gasoline engine. As environmental awareness grows and downsizing progresses, the concept explores the technological proposition to plug the PHEV drivetrain into a small SUV. The gas turbine engine-generator has a powerful output for its size and weight.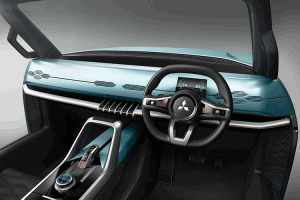 The vehicle comes equipped with a human-machine interface (HMI) which displays various information detected through sensing technology including advanced optical sensors on an Augmented Reality windshield. With vehicle, road, and surrounding traffic conditions shown on the AR windshield, drivers can make accurate, heads-up decisions even in poor visibility.