Design Research Studio – under the creative direction of Tom Dixon – created the interiors for the 359-room Mondrian London hotel, which occupies the south wing of Sea Containers House located between the OXO Tower and Blackfriars bridge on the south bank of the River Thames.
Originally designed as a luxury hotel, the building's brief was never fulfilled and it instead was occupied as office. Among these was a shipping company 'Sea Container' from which the building now draws its name. This maritime history and the Anglo-American relationship between Design Research Studio and Morgans Hotel Group, form the design inspiration for the project.
The hotel embody the elegance of a transatlantic 1920's liner. The main lobby features a giant, external and internal, copper clad wall inspired by the hull of a ship, running from outside the building and glamorously leading guests within the hotel lobby. The vast 1500 m2 ground floor area includes one river-side restaurant and a breakfast bar.
Building on the extensive metal finishes already found in the building, a network of brass elements run throughout the hotel, feeding out to every corner, edging each bedroom door and eventually morphing into a cocktail bar on the roof top.
The hotel's 359 bedrooms have been furnished with custom designed furniture from Design Research Studio featuring rich colour palettes contrasted against standout metallic pieces following the nautical theme.
Corridors are smart and sleek while the public WCs draw inspiration from the marine engineering featuring porthole mirrors and detailing usually found on board a ship.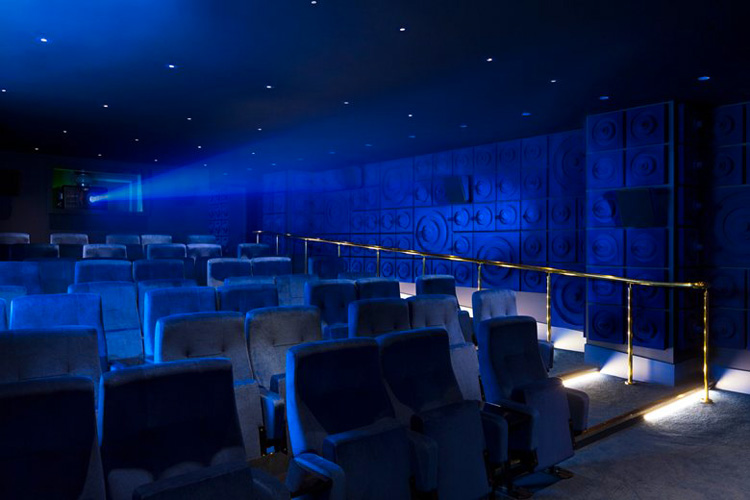 The roof-top bar has been edged with glass boasting views of the North and South of the city inspired by the top deck of a cruise liner. Designed with references to an ornate Art Deco-period ballroom, the bar features a statement lighting installation, adding to the space an element of sophisticated glamour.
Drawing from the signature colours of the Morgans 'Agua' brand, the spa architecture color scheme gradates from white through to darker shades to encourage relaxation and calmly leading guests towards an exclusively designed secret water feature. The spa aims to create a feeling of under-water tranquillity, taking inspiration from the cocooning nature of a submarine.
A 61-seater screening room, to be used for TV and film premiers, continues the maritime theme using bold blue colours.
images © PEER LINDGREEN and EMILY ANDREWS courtesy of DESIGN RESEARCH STUDIO