Motorola has unveiled a reinvented Razr with a design that gives a nod to its iconic past but updated with a folding LCD screen to compete in today's smartphone landscape.  While the new Razr might look familiar closed, flip it open to reveal a modern smartphone unlike any other.
The main screen is a full-length 6.2" display that closes completely in half. On the outside, a touch-enabled "Quick View" display lets you interact with notifications without having to open the phone. The Razr also has a 16-megapixel camera with Night Vision and all-day battery life with TurboPower charging.
The razr uses advanced flexible OLED screen technology and a groundbreaking hinge mechanism that allows the phone to close with both sides perfectly flush. This engineering breakthrough protects the display and creates an even thinner, more compact design. Flip it open to bring movies and videos to life in high-definition on a stunning 6.2" Flex View display. The display also has a 21:9 CinemaVision aspect ratio – the same ultra-wide dimensions used by the film industry – so you can enjoy all of the action from edge to edge.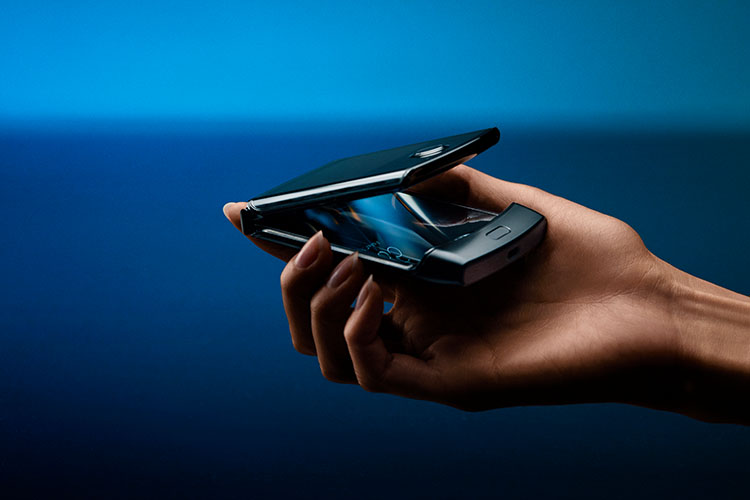 The touchscreen Quick View external display lets you respond to notifications, take selfies, play your music, use Google Assistant, and more without having to flip open your phone. Just twist your wrist with the phone closed to open the 16MP main camera and shoot away. Also, the displays are made to work together. Whenever you need more information or want a bigger view, simply flip open the phone and whatever you see on Quick View display instantly moves to the larger Flex View display.
The Razr is rounded out with a feature-packed 16MP camera: Night Vision mode brings light and clarity to the darkest scenes, and electronic image stabilization steadies the shot for better videos with fewer blurry takes. Built-in artificial intelligence (AI) looks for ways to give you the most professional results possible. Use AI for shot optimization, portrait lighting, smart composition, auto smile capture and gesture capture.
In terms of specs, the 2019 RAZR is equipped with a Snapdragon 710 processor, 6GB of RAM, and 128GB internal storage.
Interested readers will be able to pre-order the updated Motorola RAZR flip phone this December for $1499.99 USD (or $62.49 USD/month on Verizon's 24 month contract). The phone will then be released in the US in January 2020. Additional pricing is yet to be announced for its availability in the UK, EU, Latin America, Asia and Australia.