Japanese lifestyle brand MUJI has teamed up with Finnish autonomous driving company Sensible 4 to design a self-driving shuttle bus with the aim of rolling out this public transportation in Finland in 2020. The Gacha Shuttle Bus is the first autonomous bus in the world for all weather conditions. Weather plays a critical role in opening the market for autonomous buses or robotaxis. Currently heavy rain, fog, and snow prevent autonomous vehicles from driving, as the existing technologies are mostly being tested and developed in warm climate conditions. Sensible 4 has focused on technology tests and validation under arctic Lapland conditions.
MUJI proposes a pleasant life. This not only covers products for daily life but also the challenges faced by different communities. The advanced technology of autonomous driving has potential in the countryside where decreasing birthrates and aging populations are causing problems in these communities.
"We are developing these vehicles so that they can become part of daily transportation service chain. Autonomous vehicles can't become mainstream until their technology has been insured to work in all climates", says Harri Santamala, CEO of Sensible 4.MUJ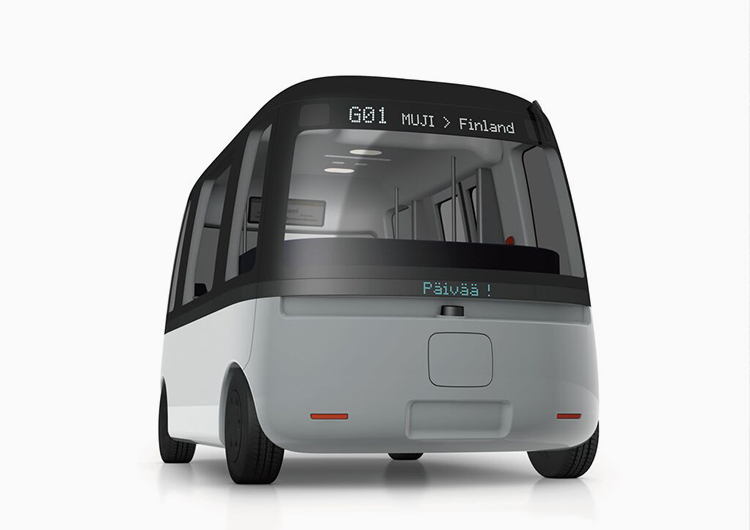 The Gacha autonomous shuttle bus is an all-weather concept that can be shared among the community. The design is made in consideration of the users. The highlights of the design are its shape, which is friendly and designed with no front or back, the LED light belt, which is made from the combination of the headlights and communication screen, and the seating that follows the soft rounded square shape of the bus. Finland has a perfect environment for the autonomous vehicle testing, because it is legally not required to have a driver on the vehicle running on public roads.
The prototype will be unveiled to the public in Helsinki, March 2019. After the unveiling, the Gacha shuttle bus will start its final phase of testing, operating a passenger service in three Finnish cities.