At Milan Design Week 2018, a brand-new company from Spain, Nagami is making its official debut with a pioneering project, combining computational design and large-scale robotic 3D printing — Brave New World: Re-thinking Design in the New Age of Technology.
The brand, which crafts every detail from the early conception of a product, to the software that brings it to life, will officially launch with the presentation of two chairs, Bow and Rise, designed by Zaha Hadid Architects, a stool by British designer Ross Lovegrove called Robotica TM, and the Peeler chair by London architect and designer Daniel Widrig.
The products, which will be displayed at Nagami's pop-up showroom, in the dynamic Brera Design District (Spazio Theca, Piazza Castello, 5), explore new ways of creating furniture that push the limits of imagination to unseen territories.
"We design products that until now were just waiting for the right technology to come to life: not only objects that you can hold, but also that you can feel and experience as part of your environment", say Nagami's founders Manuel Jimenez García, Miki Jimenez García and Ignacio Viguera Ochoa.
Bow by Zaha Hadid Architects
Bow and Rise are the latest results of the extensive, ongoing research that Zaha Hadid Architects is conducting within the domains of 3D printing and material experimentation. These chairs combine pristine design informed by structural optimization processes typically found in nature, with innovative materials and the most advanced fabrication methods. The pattern and the color gradient of both pieces concur in redefining the traditional spatial relationship between furniture and its setting. Bow and Rise have been printed with a pellet-extruder employing raw plastic particles rather than a filament. The chosen plastic is PLA, a non-toxic, biodegradable material from renewable sources such as corn-starch, which ensure lightness and stability.
Rise by Zaha Hadid Architects
Robotica TM takes form at the convergence of two fields – botany and robotics – to coin a new approach to design that crystallizes the natural programming in nature with that of robotics within artificial manufacturing. Built from a rotational geometry, Robotica TM presents an indirectly intelligible function. Thanks to its adaptable character, the high stool, which has 360° formal access, can also perform as a table upon which to place food that has just been taken out of the oven, due to its heat-proof silicone inserts in the seat, or as a plinth for a sculpture-TV, or even as a stand-alone aesthetic object, fulfilling any ancillary needs within a home.
Robotica TM by Ross Lovegrove
Peeler has been conceived to overcome the limits of additive manufacturing, thus far serving small niche markets. Winking at mass production, it is 3D printed in single 7mm thick shells of PLA by an industrial robot in just a few hours, consuming a small amount of machine time with minimum waste of material. The chair has been designed to satisfy both the ergonomic constraints of the human body, as well as the ergonomics of the robotic arm that prints it. Consisting of three undulating skinlike surfaces, Peeler emerges out of a convergence of human and machine requirements.
Peeler by Daniel Widrig
The Opening Event will take place at Nagami's pop-up showroom on Wednesday, 18 April 2018, from 4.30 pm. The project will kick off with the keynote lecture by Patrik Schumacher (Principal at Zaha Hadid Architects) at 6.00 pm. During the entire design week, the showroom will become a vibrant hub for innovation and technological advancements, hosting a series of lectures pertaining the world of digital design, that run daily from 17-22 April 2018. Speakers include designers featured in the show: Ross Lovegrove and Daniel Widrig, as well as internationally renowned architects, artists and engineers, such as Isaie Bloch, Claudia Pasquero, Arturo Tedeschi, and many more.
As 3D printing techniques exert an ever-growing influence on the way we envision design, the exhibition Brave New World: Re-thinking Design in the New Age of Technology provides a glimpse of tomorrow's most promising tech-savvy design products.
Bow by Zaha Hadid Architects
Bow by Zaha Hadid Architects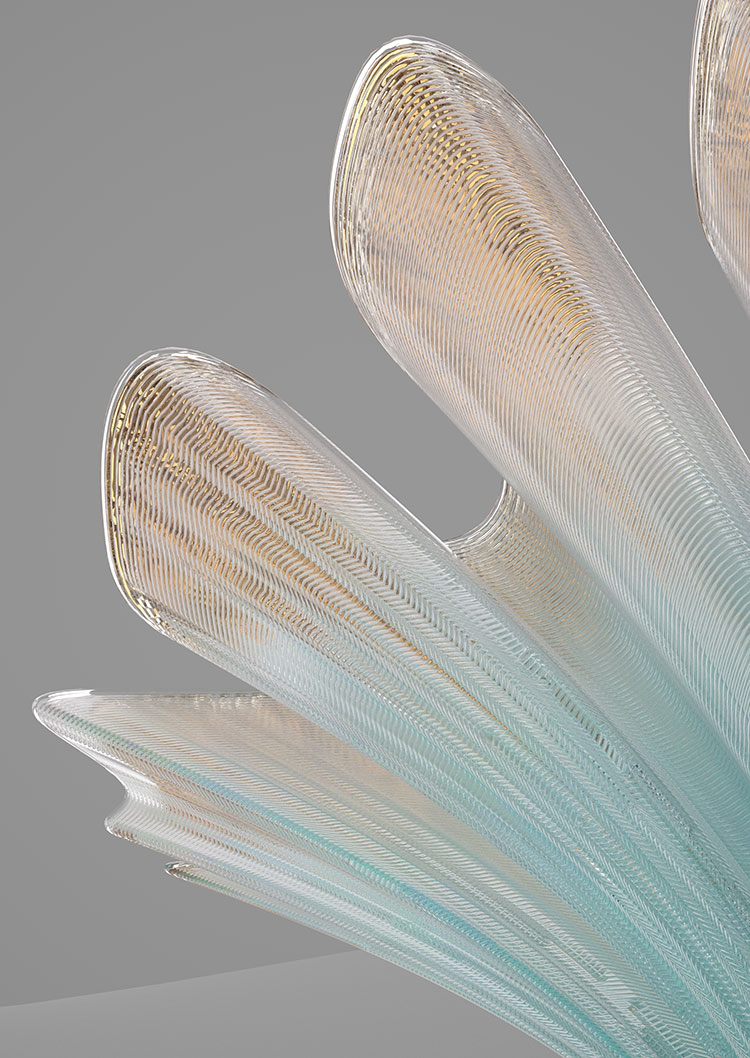 Rise by Zaha Hadid Architects
Rise by Zaha Hadid Architects
Rise by Zaha Hadid Architects