Setting a new standard in luxury oceanfront lifestyle, Neman Residences are uniquely designed and well appointed villas located within the 5-star Naman Retreat in Da Nang, Vietnam. Naman Residences is comprised of 40 private pool villas featuring luxurious, modern architecture and natural green spaces. From the spacious and elegant beachfront A villas to the exclusive privacy of the B, C & D villas, each villa is unique and offers a luxurious retreat for family or friends.
The Naman Residences Garden Villa B type is located on the beach but lack of view and direct vision to the sea, together with high density master plan. To immerge the beach feeling and luxury into those type of villas MIA Design Studio has adopted the most basic theory of space: create the voids.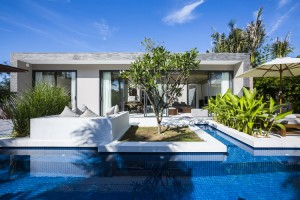 The studio has splitted those villas function into 2 separate spaces: one for more quite, relaxing pond, opening view to the horizon of the beach; one for more functional, multipurpose with terraces and landscapes. Bedrooms are put on the upper block for more privacy, oriented to the sea. Open kitchen and living room stick to the ground, connected to the landscape with outdoor BBQ and swimming pool.
Moreover, MIA Design Studio has put waterscape into the rooftop of the lower block in order to cool down the whole building and improve the rooftop landscape aesthetically.
all images © Hiroyuki Oki