Renowned Japanese studio nendo has unveiled a non-inflatable soccer ball created for impoverished communities of the world. The project came out from the need for a simplified soccer ball so children could have a chance to play and enjoy soccer, in the hope of popularizing the sport and increasing the player numbers.
In impoverished communities of the world, aside from the difficulties in obtaining the regular soccer ball itself, its maintenance presents a barrier even once purchased, whether because of the unavailability of air pumps or the deterioration and damage of the tube inside the ball. 
As an answer to this problem, a non-inflatable soccer ball that gives the same sense of kicking as a standard ball was devised, its development inspired by the structure of the traditional Japanese woven bamboo ball. Dubbed 'my football kit', this non-inflatable soccer ball by nendo can be assembled using three different types of components for a total of 54 parts.
The soft, recycled polypropylene and elastomeric synthetic resin components won't hurt bare feet, and are unlikely even if broken to develop a sharply fractured surface that might cause injuries. The impeccable modularity of the ball ensures that, if a component comes off during play, the interlocking structure guarantees the ball will not disassemble. To fix it, users just have to restore or replace only the broken components, providing high maintainability and economic efficiency. Components may be shipped in disassembled states in compact packages, potentially cutting shipping costs.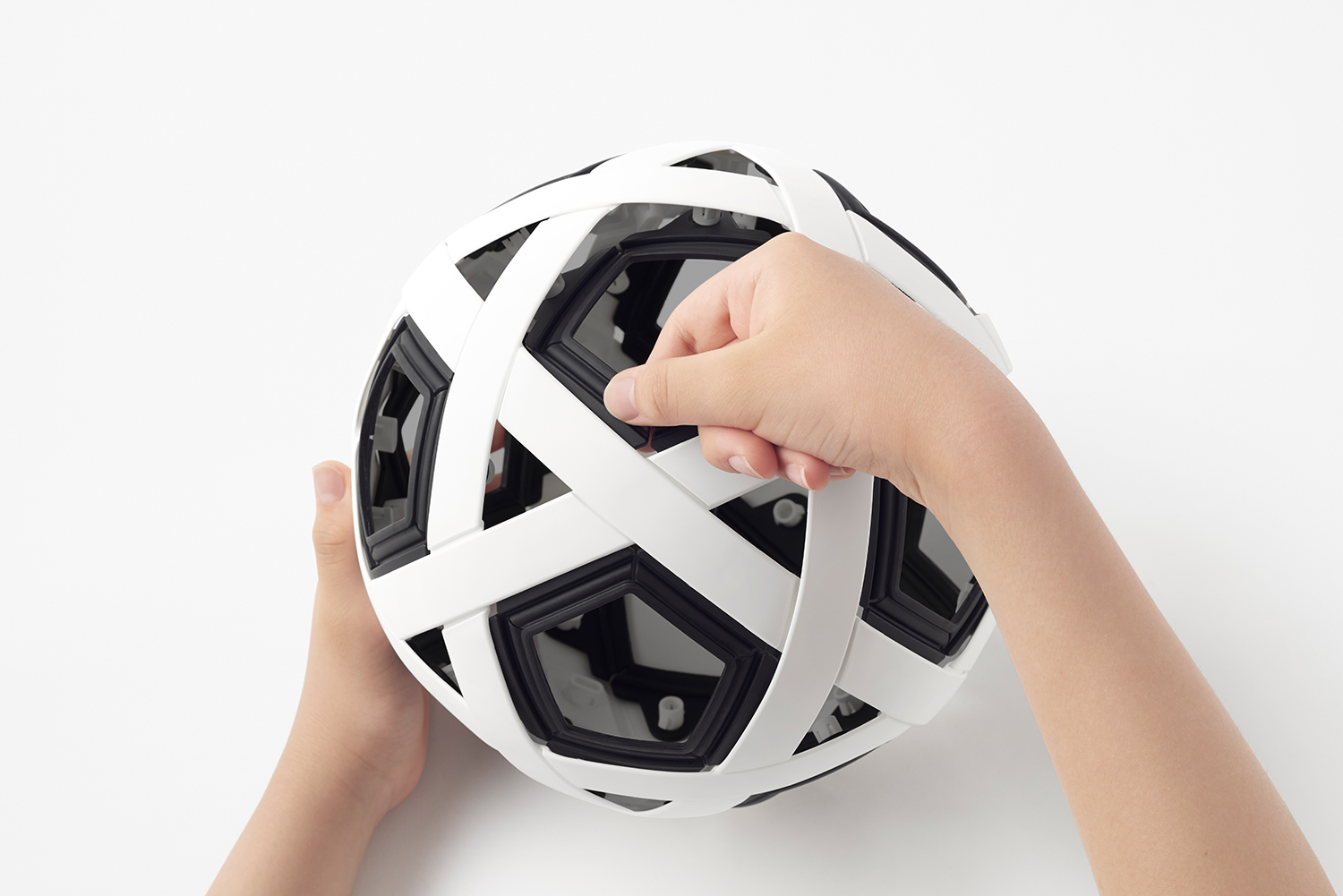 The availability of multiple colors for the same components also helps children to strengthen their attachment to the ball through the assembling work in their own color scheme, leading to a greater appreciation of play. The instructions for assembly are therefore designed like a picture book, depicted entirely in easily understood illustrations with no text so children across the globe can handle. A packaging sack was also designed so as to be used to carry around the ball like a knapsack later on.
With potential for printing original logos or developing brand-specific color schemes, the business model anticipates the contributions of companies and organizations to various educational institutions and club teams.