The intersection of Nostrand and Flatbush Avenues marks the heart of the Flatbush neighborhood and in many ways Brooklyn embodies the heart and soul of New York City. As a result, Nike chose to locate its first New York Community Store just a few hundred feet from this storied intersection.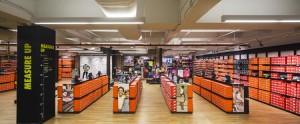 Nike retail stores give consumers an all-access pass to the world of Nike products and services. As part of the Nike retail experience, the mission of the brand's Community Stores is to build and empower a healthy local community through the unifying power of sport and to serve as a catalyst for positive change by partnering with local organizations.
All Community Stores have local hiring initiatives that aim to hire at least 80 percent of store employees – known as store athletes – through local channels and from within a five-mile radius of the store.
All Nike Community Stores include design elements and products that reflect the heritage of the surrounding neighborhood. In the Flatbush store, these elements include Brooklyn imagery shot by local photographer Anthony Blasko, including shots of store athletes from Nike retail stores in the New York area, Brooklyn-specific products only available at the store and gear from local sports teams.
In designing the store, Nike also sought to protect the architectural and historical integrity of the building, including restoring the existing brick and iron/metal work and its original patina, as well as preserving much of exposed brick, hardwood flooring, atrium windows and staircase.
The Brooklyn location marks Nike's fifth Community Store since Nike first established the concept in Portland, Oregon, and represents the brand's second location on the East Coast. Nike's first East Coast Community Store recently opened in the Ivy City neighborhood of Washington, D.C. Additional Community Stores are located in New Orleans' Mid-City neighborhood and South Chicago.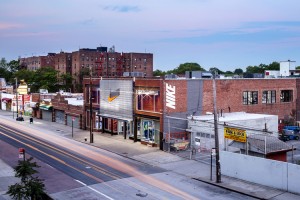 all images courtesy of NIKE