NIKE and Tom Sachs have revealed their latest collaboration with the NIKECRAFT transitions collection, whose highlight is a transformative poncho that packs into a slimline waist pack. The story of the Nike x Tom Sachs Poncho is a reminder that good solutions take time to solidify. Its shape-shifting nature was perfected over the course of four years, dozens of prototypes, countless tests and innumerable hacks.
The poncho began life in 2015 as one output of a design challenge to consider transforming apparel, and was undertaken by Jarrett Reynolds, Nike's senior design director for apparel special projects, and others. Reynolds was initially intrigued by the idea of a slimline pack complete with a quick-deploy poncho that pulled swiftly from its carry and could be easily repacked after use.
"We used a tear-away zipper for the first incarnation. It allowed for the explosion — the forceful billowing that allowed the wearer to quickly get into the poncho — but it was really difficult to set up," says Reynolds.
Despite its finicky nature, this prototype led to eight or nine other concepts, over the course of two years, each helping show proof of concept but never quite clicking, so Reynolds shared the poncho via video to a frequent Nike collaborator, Tom Sachs.
"He was like, 'We've got to do something with this.' I was stoked because Tom and his team are problem-solvers, they look at things from a different perspective than we do and that's what we needed," says Reynolds. From there, the project blossomed into a collaborative, inventive exercise with the artist. In conversation, Sachs discusses how the poncho went from speculative exercise to NIKECRAFT project.
NIKECRAFT is a 50-50 enterprise between Nike and Tom Sachs. How does that work when it comes to this product? 
I want to start by reminding all of us that NIKECRAFT isn't just a brand, it's a philosophy and an approach to how we do stuff based on transparency and evidence of construction.
Jarrett showed me the idea and expressed the problems with it — he said that it was too complicated. And I said, 'No problem. We'll just make a movie about it.' In doing that, we discovered it was as complicated as Jarrett suggested, so we began to work on different solutions.
Through a lot of exploration and testing, the studio was able to find the opportunity to push on an idea that had been stuck. We simplified the deployment mechanism and the repacking mechanism. We integrated things like a drag-racing inspired parachute release mechanism, an extension flap to the poncho and the fanny pack.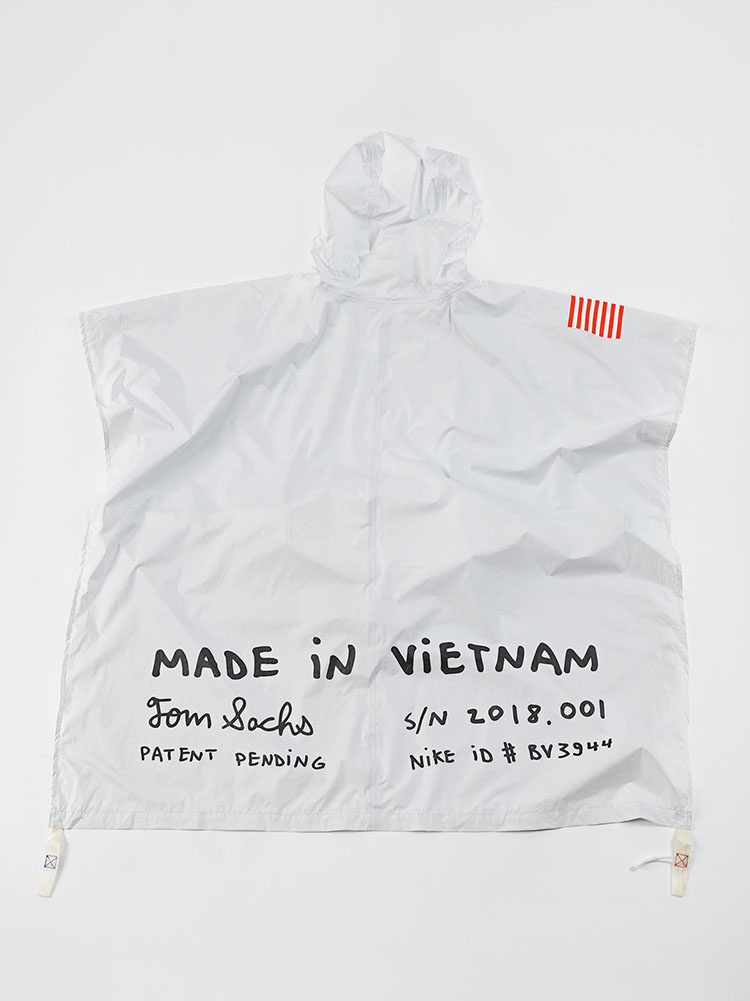 When someone shows you something like Jarrett had with the breakaway zippers and this vague construct, where does your mind go? How did you get to drag racing?
When I first saw his first prototype, I viewed it as a magic trick. Later, when I stumbled across the parachute release mechanism of a dragster and saw how it folded back, I saw how the problems that we were having with the complexity of the release mechanism were solved in other parts of industry. This particular mechanism, which allows a transition from fast to slow, served the purpose we needed.
These transitions are reflected in the season of springtime, and March is the puberty of the seasons. And it's a very difficult month, statistically it's when most people lose their cell phones and their keys and their wallet because they're switching coats. Also, as you get caught in the rain during this time but rarely have a raincoat with you, I thought, why not combine all these problems? One thing that we've learned in the studio is that if you have a bunch of problems, sometimes adding more problems to the pile can start to solve the problems.
The collection also includes down shorts. Why do we need those?
When I'm working in the studio — that's my athletic arena — when I wear shorts, I'm much more limber, I'm faster and I think better because I'm not constrained by fabric resistance in my knees.
All of the pieces also have ceramic embellishments produced by the Sachs studio. How do you think about your own studio as part of this multi-faceted manufacturing process?
One of the greatest parts about working with Nike is being able to build things on a scale that the studio can never produce.
I made some of these ceramic beads for other projects and I thought, well, they're pretty quick to make, and I thought, wouldn't it be great if we could make one small part of the final product, and make many thousands?
We set up a little factory of beadmaking and we fired 16,000 of them that are hand formed, drilled, marked with a Swoosh and a Tom Sachs logo. And you can see the fingerprints of individuals who made them on the pieces.
Of course, other hands are involved in the process of making the pieces in the collection too. The poncho calls out Vietnam specifically. How important is the factory relationship with the collaboration of NIKECRAFT?
The factory we worked with in Vietnam is, really, one the best makers that I've worked with at Nike. They didn't just blindly do what they were told. And that's a true measure of a real collaboration. Together, we all worked to produce the product, and in the spirit of transparency, I think it's really worth talking about the individuals who make the things.
The poncho, which is the highlight of the NIKECRAFT Transitions collection incorporates materials ranging from Dyneema (the same super-strong fiber used on the Mars Yard Overshoe) for the trinity case behind the poncho, to those ceramic beads created by Sachs' studio. A Fidlock buckle ensures ease of use for the waist strap, and the poncho itself was prepared from a three-layer waterproof and breathable fabric that allowed for minimal size with maximum coverage. Bold printing on the back of the garment proudly announces the location of manufacture: Vietnam.
"The ideas in this collection — transparency of materials and of construction — are very well reflected, and I'm really honored by this body of work. They have the same value and integrity of the sculptures that I make in the studio," says Sachs.
And, while the products certainly could be displayed, Sachs believes strongly that they should not only be used, but also serve as an impetus to dig in and learn more. More about doing, about imagining and, above all, about process. The apparel elements of the NIKECRAFT Transitions collection launch April 27 in Japan to coincide with Sachs' "Tea Ceremony" exhibition at Tokyo Opera City Art Gallery. A global release will follow.