Designed with ACRONYM founder Errolson Hugh, the NikeLab ACG 07 KMTR is built for the urban commuter. Inspiration for the complex design of the ACG 07 KMTR, the latest version of NikeLab's all-conditions shoe and the first iteration of the new Nike Komyuter silhouette, came in the form of a brown paper bag. It's a prime example of how sophisticated solutions can stem from straightforward, functional suggestions.
A proposition for increased access and ease led designers to place a bag around a foot and scrunch it to form the shape of a shoe. This elementary act informed an inventive outcome: facilitating the metamorphosis of a single-piece upper from a wide-open entry to a supportive closed state would result in a new performance silhouette.
Ultimately, the designers fashioned the ACG 07 KMTR with a four-way stretch water-resistant upper shell that conforms to the foot through an integrated draw cord and stabilizes via a forefoot strap equipped with a Fidlock magnetic buckle.
Though the structure of the system is complex in its build, it's incredibly simple in its use: Unbuckle and open the shoe, insert foot and pull the cord.
"This shoe is water resistant, light, flexible, easy to put on, has great traction and introduces a new aesthetic," says Nike NSW footwear designer, Gerald Sullivan. "Moreover, it reduces functional elements to bare necessity — one doesn't need the distractions of complicated entry and lockdown systems when moving around the city."
To understand the origin of the ACG 07 KMTR's premise is to appreciate its broad parameters. The shoe was created for all-day urban wear in a range of environments. This includes flash rains and temperature shifts, and everything from hard concrete sidewalks to a variety of indoor floorings. It also takes into account that the wearer could easily cover more ground over the course of a day's action than an elite athlete does in a training session.
Therein lies the complexity: In order to facilitate a shoe with high function and high comfort, translating the brown paper bag to high performance is something akin to a science experiment.
"We trialed a number of closure systems, and I began thinking about how a parachute unfurls and wondered how that might operate in reverse. Ultimately what worked best was pulling the cord through the shoe via a single hinge. This act molds the bag-like upper into form," explains Sullivan. "Secondary lockdown is achieved through the magnetic buckle, which is not only low profile, but adds a distinct panache to the shoe's form."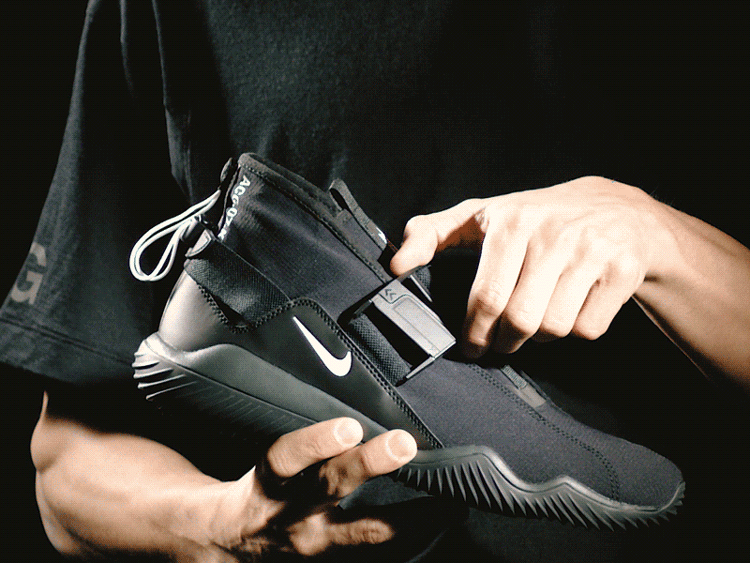 The ACG 07 KMTR's function guides its stance. The upper transforms from its loose, open state into a sleek, fast silhouette that marries gracefully to a full-rubber bottom with wet traction lugs (derived from the tooling of the Nike Tallac Flyknit ACG). Compositionally, this build simultaneously conveys comfort in speed and a readiness to take on anything. Reflective hits on the logo and welding seams help ensure the all-day, all-challenges equipment is balanced with requisite safety features. As a full package, it is a far cry from a brown paper bag.
The ACG 07 KMTR launches May 18 on NikeLab.com and at NikeLab retail locations. The Nike Komyuter silhouette will release in a variety of colorways through summer '17.
all images courtesy of NikeLab