Niko Kapa has been awarded the highest distinction in European Product Design Awards with the innovative design of Audi Cetus receiving Platinum Prize in Transportation category. The Audi Cetus is a hydrogen-powered, zero-emission city car, designed to change everyday city travel. The idea was to create a car for 2 people that will be likeable and fun, in an effort to restore excitement to the experience of driving. A playful conceptual exercise, truly embraces aerodynamics to both reduce energy consumption and form part of a future design aesthetic.
The smooth curves and streamlined shell mimics the movement of a swimming fish, in an effort to corelate the similarities of the hydrodynamic properties of marine creatures with the aerodynamic performance of the car. This results to an energetic and distinctive form that is formulated by the little details such as the flow of the exterior shell.
The design is primarily concerned with the forces of drag and lift, which are caused by air passing over and around the car body in motion. The entire form that embraces the car's various elements combines functionality, quiet operation and aerodynamic performance. Along with, it also adds to the aesthetics of the vehicle and its exterior looks, leading to a more dramatic change in overall appearance and performance of a vehicle.
The windows are designed to allow as much light as possible to enter. The use of electrochromic glass gives the possibility of dimming by pressing a powered switch in order to control the level of illumination of the interior. On the back, surfaces curve smoothly into one another and embrace the back wheels, creating a wraparound, retractable trunk that opens like a drawer. Additional security features include smart sensors in the vehicle.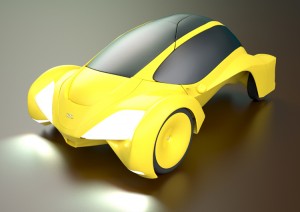 Characterized by soft lines and user friendly features, the surface design flows with motion of the fluid around the body that is made to run on the road. The low profile was developed and customised extensively after ergonomic trials in order to minimize the height of the car and subsequently the air turbulence on the back.
The dynamics of the streamlined silhouette are further emphasised by the natural smooth form that flows to give the car a distinctive appearance. By incorporating this concept the design becomes a more visual expression of the smooth flow of air and this underlying order gives the car its character.
The only designer representing United Arab Emirates in the annual awards as a Platinum Winner, Niko Kapa has been also nominated to compete for the title Designer of the Year.
all images courtesy of Studio Niko Kapa