Chinese electric vehicle start-up NIO has launched the NIO ES8, a seven-seater electric SUV for the Chinese market, at about half the price of Tesla's Model X.  The Chinese automaker has also unveiled a battery rental plan that allows 'ES8' owners to upgrade their battery services, along with quality assurance, roadside assistance, car connectivity, and nationwide charging stations.
With both front and rear motors, the NIO ES8 delivers 480 kilowatts of power and 840 Newton meters of torque to all four wheels. This E-powertrain enables the ES8 to accelerate from 0-62 mph in just 4.4 seconds. The latest active air suspension on all ES8's models creates comfortable, connected riding experience.
The ES8 is equipped with a 70-kilowatt-hour liquid-cooled battery pack comprised of cutting-edge VDA square cell batteries. These cells feature the highest energy density of their kind and provide a 2,000-charge lifecycle.The ES8 achieves over 310 miles of range when constantly run at 37 mph, and the car achieves an NEDC range of 220 miles.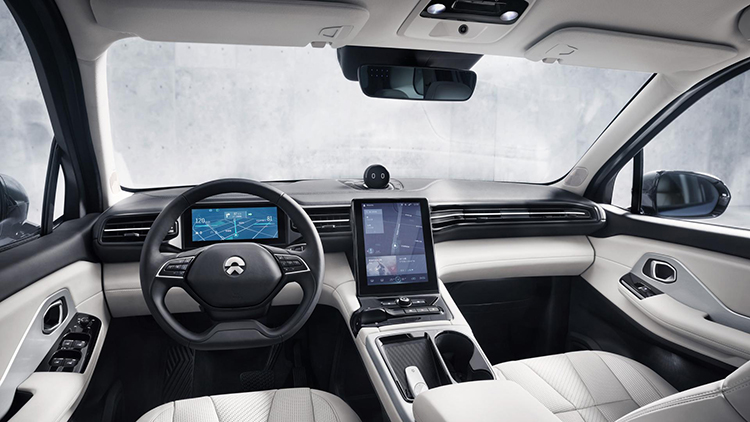 The NIO ES8 comes with an advanced driver assistance system, NIO Pilot, which is enabled by 23 sensors, including a trifocal front-facing camera, four surround exterior cameras, five millimeter-wave radars, 12 ultrasonic sensors and a driver monitor camera.
NIO also introduces NOMI, the world's first in-car AI system. Powered by both in-car and cloud computation, NOMI interacts with people sitting in the vehicle and its emotion engine gives users a friend on the road. NOMI combines the ES8's intelligence and car connectivity functionalities to turn the ES8 into a fun, expressive, and intuitive companion that can listen, talk and help drivers along the way.
A new charging experience allows the SUV's battery to be swapped in just three minutes, while a power service product developed by the manufacturer enables the e-car to run for 62 miles after charging for ten minutes.
According to the Chinese-automaker, it intends to build over 1,100 power swap stations and deploy over 1,200 vehicles by 2020.
all images courtesy of NIO