OMA's AMO research and design studio has completed a prototypical car showroom for Hyundai's Genesis car brand in Seoul's Gangnam business district.
Under the pressure of the increased fragmentation of sales and in response to changing consumer habits, the automotive retail store has increasingly turned into a space for marketing and visual branding. This is reflected in the design of the retail space: the ubiquitous vitrine typology has created a mish-mash of brands and product.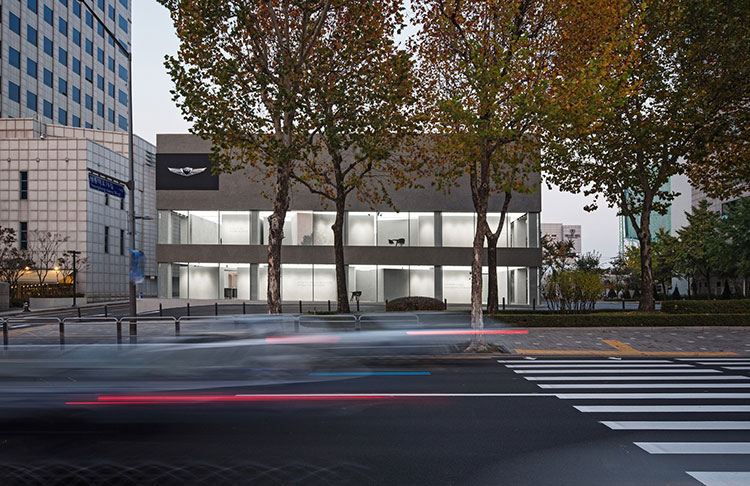 "We created an environment that tells more about the car and the Genesis brand than any logo, poster or LED display would be able to," explains Chris van Duijn, partner and director of OMA / AMO Asia. "The space is dominated by the total absence of any traditional marketing tool: no clutter, no distraction. Genesis Gangnam is designed around the car and provides a context for a multiplicity of associations – or none at all, allowing each customer their own human-car experience."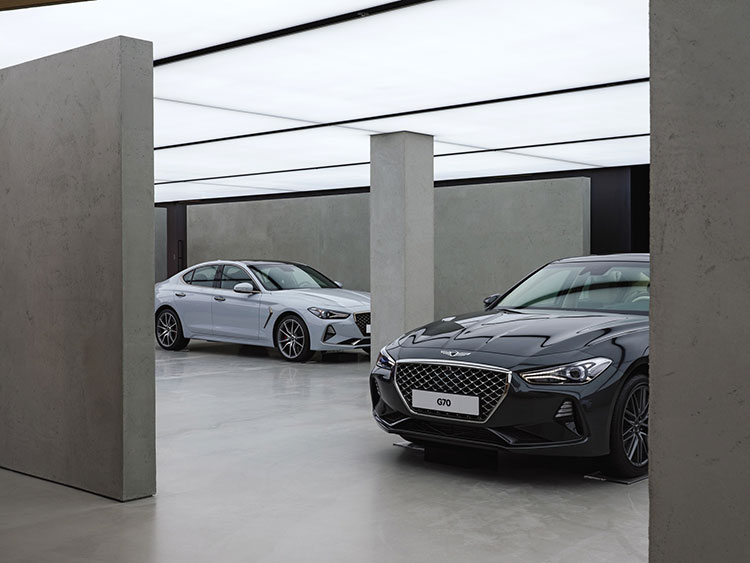 Designing a store for luxury automotive brand Genesis in Seoul, Korea, led AMO to question the relevance of the automotive retail space as sales environment and to explore its further potentials. The Genesis Space Identity concept developed by AMO revisits the conventional norm of dealership in the automotive industry. More than an overt sales and display environment, AMO created a store design in which there is a subtler unpacking of Genesis' message.
Following AMO's research into the interaction between architecture and branding, Genesis Gangnam Store treats car display as curation, breaking away with the commonplace practice of showing as many models as possible. To emphasize the design and craftsmanship of the car, the models on display are placed against a neutral backdrop of grey concrete and lit from above by a bright ceiling.
Typically, the design of an automotive retail space includes large window shops that disclose the interior in one glance. By contrast, the Genesis Space is a space of gradual discovery, enhanced by the selection of a muted palette of colors and materials for its interior design. Furthermore, to mute the distracting presence of sales activities, the purchasing process is placed in a sequence of independent rooms. Furniture is blended into the separate rooms by using the same color and material as the space.
Just slivers of cars are visible from the street. Meandering spaces draw the buyer through automotive galleries punctuated by open sales séparées and option desks with paint and leather samples. The visit culminates in a dramatic test-drive room with photo-studio light projected from either side and a mirrored inner garage wall on which the driver can picture herself as the new owner.