Munich-based architecture firm TKEZ has recently designed this 1,400 smq office for Onefootball inside a former factory building in Berlin, Germany. The Onefootball App connects more than 14 million footballfans in over 200 countries and allows them to follow their favorite team – anytime and anywhere. TKEZ's task was to create a stimulating and at the same time professional working environment for 90 employees, fulfilling all the needs and requirements of a multi-functional contemporary office space.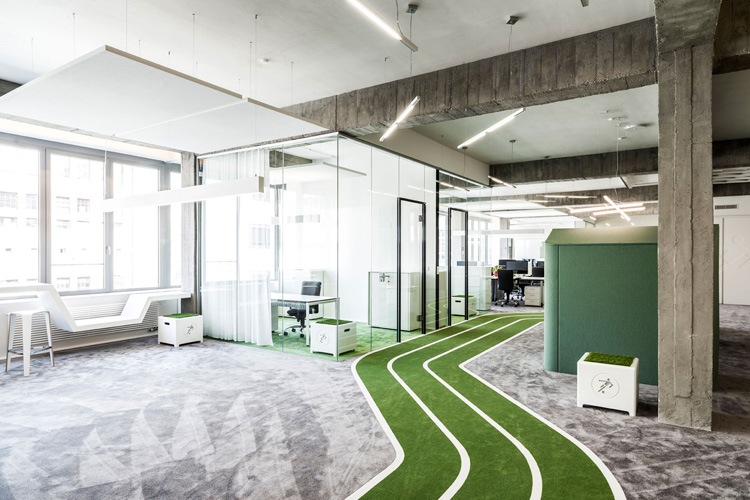 The office was designed to be a light and open, multi-functional work environment which represents the young and enthusiastic spirit of the company. A dynamic grass green runway is leading through the generous open floor plan. The ample space is rhythmized by transparent floor to ceiling glazed single and double unit thinking spaces, offices and meeting rooms which are carefully placed in order to fluently create a subtle zoning for the diverse teams. If a more private and calm work environment is required these areas can be closed by translucent curtains.
Artificial grass floors generate a special reference to the companies theme: Football. Long linear Touch Down areas along the façades offer the employees a change from their assigned desks to a location where they can have spontaneous meetings with their coworkers or simply work towards the light filled green courtyard. Areas of "soft work" are formed by textile cabins which are acoustically effective.
Sofa areas at the back end of the offices offer informal seating to meet and discuss in a casual surrounding. The walls in this areas have special magnetic and rewritable surfaces to support brainstorm sessions and the generation of ideas and visions which can be sketched right on the walls to be communicated to the team mates. The green runways end in football goals inviting for penalty shootouts in work breaks.
The heart of the new headquarters is the Onefootball Arena. It is a multi functional area which serves as the main space for presentations, meetings, interactive work sessions, football events and company gatherings. The programmer or designer teams can gather there and have workshops on the large 4x4m screen on which the latest ideas and work can be projected. At football games the arena with it's colored backlit roof and surround sound system fills with employees, their families and friends and creates a very special and vibrant environment.
all images © BENJAMIN A. MONN