During Miami Art Week 2019, Argentinian artist Leandro Erlich has unveiled Order of Importance, a monumental site-specific installation that aims to raise awareness of the climate-change crisis. The installation will be on view to the public till December 15, 2019. Order of Importance will be a temporary installation located directly on the oceanfront in South Beach at Lincoln Road, and will be comprised of 66 life-size sand replicas of cars and trucks. The forms will be left to slowly degrade throughout the duration of the 15-day exhibition. 
By recasting the 21st-century traffic jam in sand, Erlich alludes to time in both a representational and material sense. The sand replicas of vehicles frozen in time symbolize a harsh and rigid modernity that is at odds with natural and porous material of which they are made. Throughout his career, Erlich has combined elements of sculpture, architecture, and theater to create surreal environments that disrupt the audience's natural view of the world.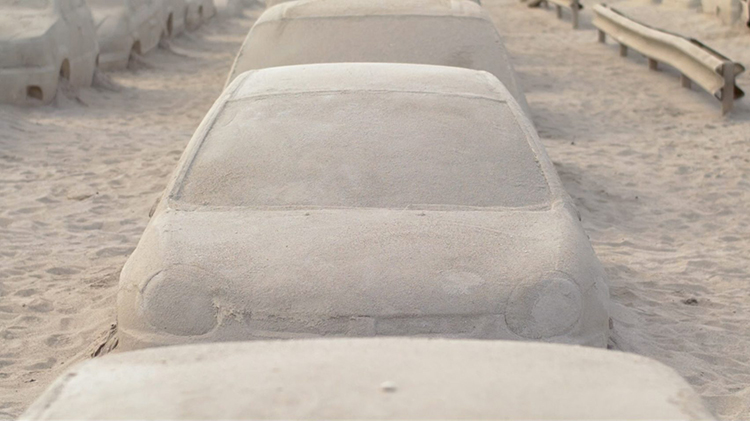 Most of the vehicles are partially buried in the sand, which is intended to give the effect that they are submerged – a reference to rising sea levels caused by global warming. "Climate change and its consequences are no longer a matter of perspective or opinion," said Erlich. "The climate crisis has become an objective problem that requires immediate solutions."
"As an artist, I am in a constant struggle to make people aware of this reality," he added. "In particular, the idea that we cannot shrink away from our responsibilities to protect the planet."
"Apart from its surreal beauty and poetry, Order of Importance, like an image from a contemporary Pompeii, or a future relic, also alludes to our fragile position in the large universal canvas," said Ximena Caminos, the curator behind the project. "It interacts with the climate crisis facing the world, particularly the rising sea level."
Erlich is internationally renowned for representing Argentina at the 49th Venice Biennale where he exhibited Swimming Pool (1999), a landmark piece that is now part of the permanent collection at the 21st Century Museum of Art of Kanazawa (Japan) and participated at the Whitney Biennial in 2000 with the work Rain (1999). Earlier this year Erlich became the first non-Chinese artist to occupy the entire exhibition space at the CAFAM (Central Academy of Fine Arts, Beijing), China's leading museum, with the show The Confines of The Great Void. Order of Importance is the City's first temporary public art commission and adds to Miami Beach's legacy as a vanguard for public art. Miami Beach recently completed a $7 million public art investment at the Miami Beach Convention Center, which represents the largest single commission by a municipal percent-for-art program in the United States, including works by Franz Ackermann, Elmgreen & Dragset, Ellen Harvey, Joseph Kosuth, Joep van Lieshout and Sarah Morris.