On the occasion of this year's Milan Design Week, Panasonic celebrates its 100-year anniversary with a landmark installation in the Pinacoteca di Brera's courtyard, home of the Brera Academy of Fine Arts.
The installation showcases Panasonic's latest air-conditioning technology, allowing visitors to experience the cleanest, purest air in Milan. In addition, Panasonic's imaging, audio, and lighting technologies help create a calming and welcome atmosphere away from the busy design fair environment. The concept is based on Panasonic's new creative philosophy of creating products and experiences that address more intangible elements of everyday life, such as wellbeing, feelings and experiences.
"In an era where diverse values co-exist, the role of design is dramatically changing. Our 'Air Inventions' installation has been born out of our strong commitment to a new creative philosophy that focuses on the value of intangible experiences." says Mr. Shigeo Usui, Director of Panasonic Corp. "Once you step inside this space, you can't help but take a deep breath in. Panasonic Design has opened its new Design Headquarters in the world-famous cultural capital of Kyoto, accelerating the exciting transitions currently happening throughout our organization."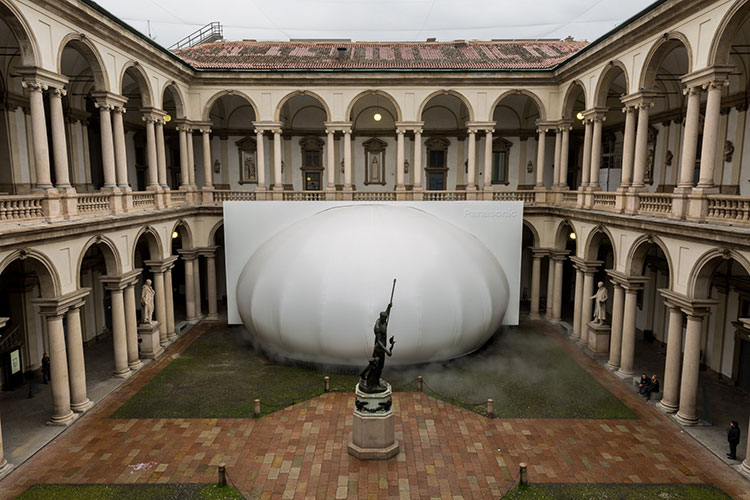 This installation, which combines a wide range of Panasonic's unique technologies in air conditioning, audiovisual, and lighting was very well received and won the Best Technology Award at the Milano Design Award 2018. Panasonic has won 3 consecutive awards at Milano Salone, starting with the People's Choice Award in 2016 followed by the Best Storytelling Award in 2017 and the award it won this year.