Warsaw-based art collective Pangenerator has realized an installation that invites people to take a selfie, which is then projected onto a screen before turning into a gravel cascade.
Commissioned by the National Ethnographic Museum in Warsaw, Pangenerator was asked to create a work that would examine an aspect of teenage life.
The installation touches on the themes of selfie-culture, and the fear of permanently losing the digital records of our lives due to technical failures, the impermanence of data storage, or simply because of the obsolescence of the old digital file formats.
"Even with such compulsive overproduction of the images of ourselves we might end up with nothing but the blank memories of our past," says Pangenerator. "Even the data on ourselves will eventually fade away."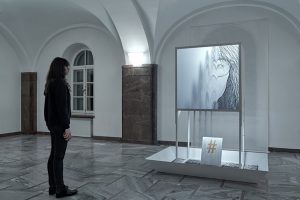 The installation begins with users sending a selfie through a mobile web page, which is then transferred onto a large 1×1 meter display screen. A face detection algorithm crops the image and translates its pixels into "virtual particles", which begin to fall and disperse in perfect synchrony with the digital simulation.
"Apart from creating engaging and intriguing experience for the visitors, we hope that they might ponder a bit about the impermanence of both life and the data," they said.
Realized as part of TEEN AGE exhibition, the installation will be on view at National Ethnographic Museum in Warsaw until February 28th, 2018.
all images and video courtesy of Pangenerator