The opening of Pasticceria Marchesi in via Monte Napoleone, 9 marks the first expansion of the historic Milanese café from its original home in 191 years. Founded in 1824 in via Santa Maria alla Porta, in the Corso Magenta neighborhood, Marchesi is one of the oldest and finest pastry shop in Milan and long revered as a symbol of excellence. Howned by Italian fashion house Prada and designed by architect Roberto Baciocchi, the new shop respects the classic atmosphere and the age-old allure of Marchesi's landmark site in Via Santa Maria alla Porta, 11/a.
Spread across 120 square meters the space and its furniture are drawn with an air of refinement. From the street, the stone façade features an inlay of Marchesi's classic gold leaf logo and white awnings over two glass windows filled with product that allow for unobstructed views into the bright space, recalling the atmosphere of Marchesi's landmark site.
Marble walls in the entryway, inspired by traditional elements of Milanese interiors, are the backdrop for the display niches of the main wall. The central marble-topped bar with cherry wood and glass cabinets, the mirror-backed shelf displaying an array of classical aperitifs and the pastry display cases with curved glass hinge-tops – a heritage from Marchesi historic shop – are re-interpreted in a new, modern and refined ambient. 
Dark brown marble covers the floors underfoot while the beamed ceilings, featuring a peculiar lighting system, create an elegant graphic effect.
While the restricted size of Marchesi's original location allowed for standing service only, the new shop presents two intimate seating rooms which are characterized by marble topped tables, soft green velvet armchairs and sofas and are completely wrapped in a green floral jacquard silk wallpaper.
The new menu, specifically conceived for this location, is classically served on fine china custom made by Rosenthal, with sterling silvery cutlery custom made by Sambonet.
For nearly two centuries, Marchesi has excelled in the creation of fine pastries, inventive cakes, fluffy croissants and creatively-stamped chocolates. A full offering of these time-honored traditions – including several new products – have now been brought to life inside the new shop. 38 light-filled niches with clear crystal shelves, and cherry wood counters allow Marchesi's famous sweets to wrap around visitors like an opulent pastel coloured candy box.
A decadent variety of sugar coated candies, bon-bons, chocolates, pralines and cakes, are presented in a new designed packaging, featuring a luxurious collection of products specially developed for the new café. All pastries are freshly baked daily on the premises, just like the original shop, to allow for the same high quality for which Marchesi is known.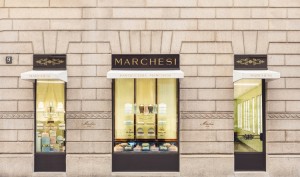 all images courtesy of Pasticceria Marchesi and Roberto Baciocchi