Architecture firm Penda has teamed up with Canadian company Tmber for the Tree Tower Toronto project, an 18-story timber-framed mixed-use residential skyscraper for Canada's largest city.
Drawing inspiration from the distinctly Canadian traditional modular construction, including Moshe Safdie's iconic Habitat 67, the tower is envisioned as a new model of sustainable high-rise architecture that can establish a reconnect urban areas to nature and natural materials.
"Our cities are a assembly of steel, concrete and glass. If you walk through the city and suddenly see a tower made of wood and plants, it will create an interesting contrast," explains Chris Precht, partner at Penda. "The warm, natural appearance of wood and the plants growing on its facade bring the building to life and that could be a model for environmental friendly developments and sustainable extensions of our urban landscape."
The tower will reach a height of 62 meters (203 feet) and will comprise over 5,000 square meters (53,800 square feet). The majority of the tower (4,500 square meters) will house residential units, while 550 square meters (5,920 square feet) will be dedicated to public areas including a cafe, a daycare center and community workshops.
Pre-fabricated CLT panels will be assembled off-site and craned into place once the foundation and base core is set. This construction method will allow the building to be built quicker, quiter and with reduced waste than traditional construction techniques. Minor concrete and steel-elements will support the CLT panels as necessary, but even those pieces have been designed with the building's life cycle in mind.
"Elements of a building like wires and copper will be a scarce resources in future," says Dayong Sun of penda. "To demolish a tower in an conventional way, buries most valuable elements of a building. To think about down-constructing a tower secures for a sustainable life-cycle of a building."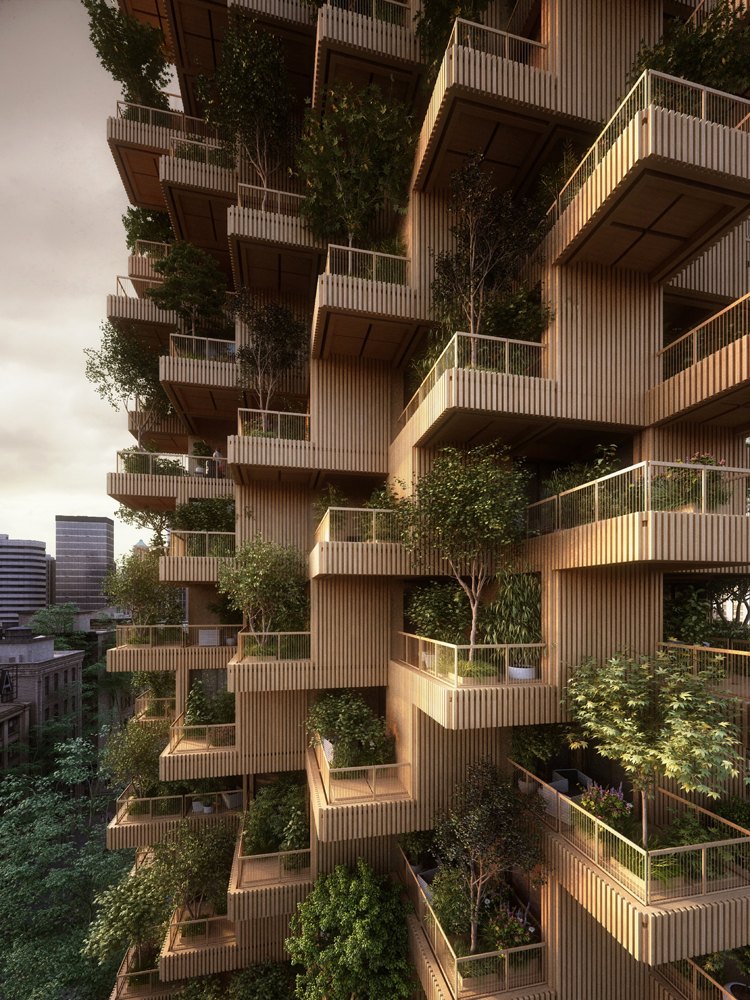 Large outdoor terraces will support large vegetation systems capable of supporting food gardens, shrubbery and even trees, all of which will help to passively cool the building and offer privacy to teach of the units. By placing trees directly adjacent to the structural wood panels, a kind of symbolic symbiosis of nature and built environment can be observed.
"This connection helps further to develop a true ecological high-rise, supplies its residents with fresher air and provides a lower carbon footprint," said Tmber CEO Mark Stein. "The extensive use of wood will set ambitious sustainability targets and will be a catalyst for similar developments in Canada."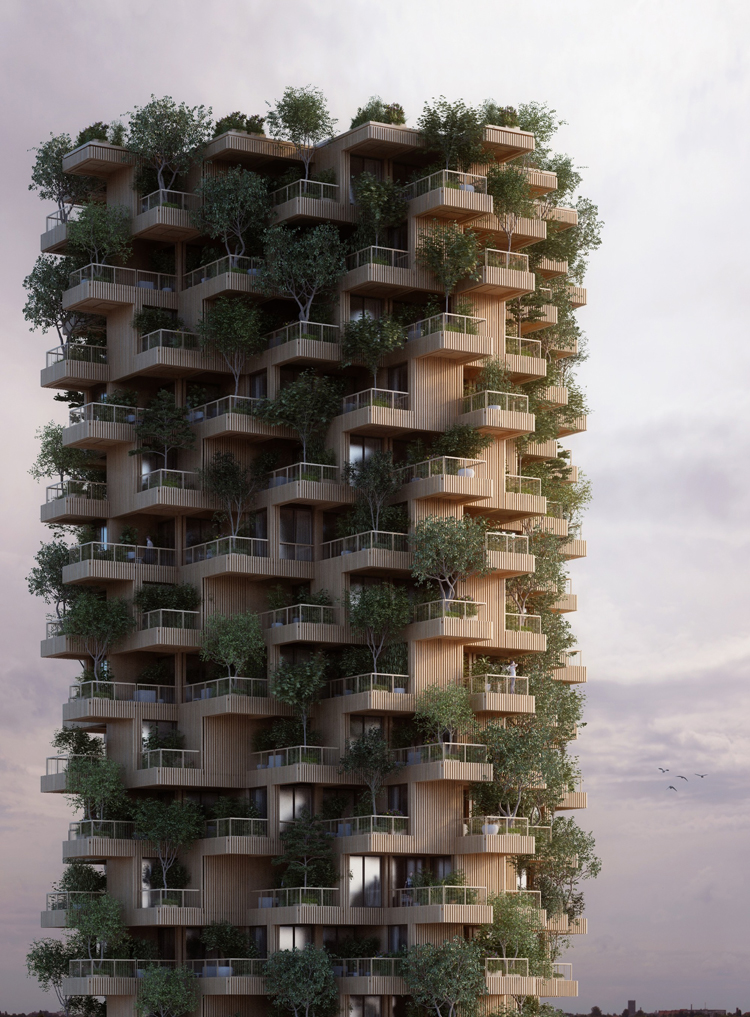 all images courtesy of Penda