One year after the presentation of the Alpine Vision concept, Alpine has unveiled at this year's Geneva Motor Show its production car: the new Alpine A110. Combining the timeless Alpine principles of compact size, lightweight and agility, this mid-engined two-seat sports coupe is true to the spirit of its predecessors and in particular the A110 'Berlinette'.
The A110 is equipped with a new 1.8l 4-cylinder turbocharged engine developed by the Renault-Nissan Alliance. Alpine's engineers, together with Renault Sport, have customized this engine for Alpine, with specific air intake, turbocharger, exhaust system and engine tune. The engine has a maximum power output of 185kW/252PS and maximum torque of 320Nm. Combined with the low kerb weight of only 1080kgs, the A110's excellent power-to-weight ratio of 4.3 kg/PS (233PS/t) enables the car to accelerate from 0 to 63 mph in only 4.5 seconds. 
In search of a combination of sleek lines and excellent performance, Alpine's engineers turned to the world of race cars and supercars to optimize the aerodynamics of the A110. With a completely flat floor and functional diffuser under the rear bumper, the A110 combines low drag with significant downforce.
This allows the A110 to reach an electronically limited 155 mph top speed, while retaining a smooth 'Alpine' profile – without the need for a rear spoiler. Air inlets in the front bumper create a curtain along the front wheel wells, improving air flow around the front wheels and hence reducing drag.
The A110 is highly modern yet immediately recognizable as an Alpine. It combines modern design language, materials and technologies with the efficiency of size, shape and profile that marked the original A110 Berlinette. At the front, four independent full LED daytime running lights and the bonnet's central 'spine' clearly show Alpine's DNA.
The side profile shows the design's efficiency – bodywork wrapped tightly around the technical parts to minimize footprint and maximize performance. At the rear, 'X' shaped LED tail lights with dynamic turn indicators give the car a highly modern look, while the sloping, wrap-around rear screen reminds us of Alpine's past models.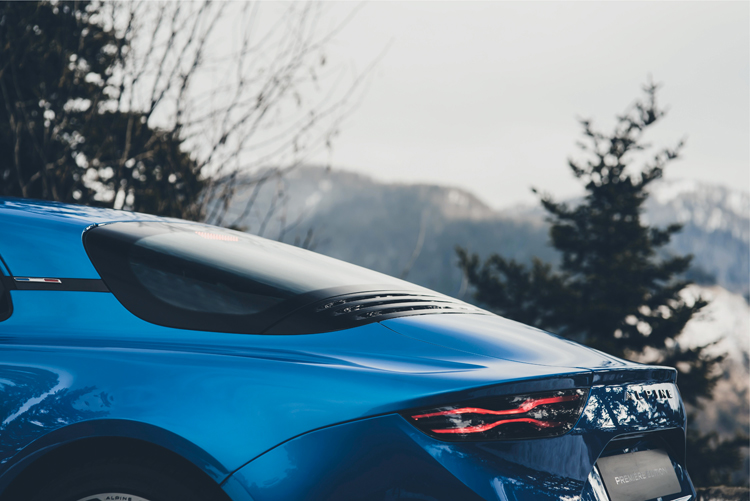 Inside the A110 minimalist, lightweight design merges with a welcoming, comfortable driving position. Top quality materials – smooth natural-grain leather, structural aluminium, carbon fibre – ensure a rewarding driver and passenger experience.
The Alpine A110 Première Edition unveiled in Geneva is a numbered, limited edition production run of 1,955 cars. 1,955 refers to the year that Jean Redele launched Alpine.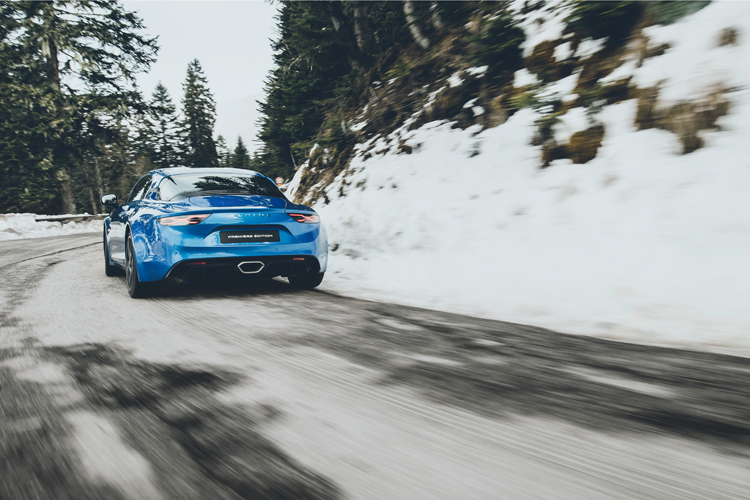 all images courtesy of Renault