At the Hannover Motor Show, Renault has unveiled EZ­-PRO, an autonomous, electric, connected and shared robo­pod concept, for the future of agile, last­mile delivery solutions for every type of professional. Last­mile delivery services are one of the biggest opportunities for disruption in professional delivery services as E­commerce continues to explode, consumers want immediate delivery, retailers need to manage delivery costs, and cities continue to look for new ways of managing intensified traffic and congestion. Manufacturer of light commercial vehicles (LCVs) for almost 120 years, and the European market leader in electric LCVs, Renault is in a leadership position to accelerate change in delivery services and the way we move goods.
EZ­-PRO is a concept that consists of an autonomous leader pod and driverless robo­pods. Renault believes that the management of the last mile will not be completely automated as people will remain at the heart of transport activities for the foreseeable future.
In EZ-­PRO, the leader pod hosts a human concierge who supervises the delivery of goods and services and its fleet. Released from today's constraints of driving, the concierge can focus on value­added tasks, such as supervising the itinerary planning and driverless robo­pods, or ensuring efficient and customized service, such as in­person, premium delivery of groceries or fragile objects.
In line with Renault "Easy Life" brand promise, EZ­-PRO offers a safe and ergonomic solution for the concierge as demonstrated, for example, by the front access, the joystick controller and easy­to­maneuver four­wheel steering feature.
The fleet of driverless robo­pods either follow each other by platooning or can move independently. Consistent with the Renault Pro+ LCV brand promise, tailor­made is also a strength of this concept. EZ­-PRO features customizable modules that meet a wide variety of specific business customer needs: for specialists in delivery and last mile logistics, but also for retailers, craftsmen and entrepreneurs.
EZ-­PRO is a shared solution. A convoy of pods leaving from the same hub and managed by the same logistics operator can carry different types of goods and merchandise, each pod having its own paymaster, theme, clientele and delivery place. They are however operated by the same electric and autonomous platform. In the same manner, a pod can make a series of deliveries for one online store and another series for a different store. These shared scenarios contribute to maximize productivity and save costs.
EZ­-PRO has been designed to offer an optimal delivery solution for professionals as well as for consumers. Recipients will be able to choose a convenient delivery time and location of their choice. The end user will also be able to choose between receiving his parcel by the concierge or accessing self­service lockers in the driverless robo­ pods. These lockers, accessible 24/7, can be opened by the recipient via a mobile phone application. The shipping solution for consumers will also feature real­time tracking options via mobile with alert services for an even smoother delivery experience.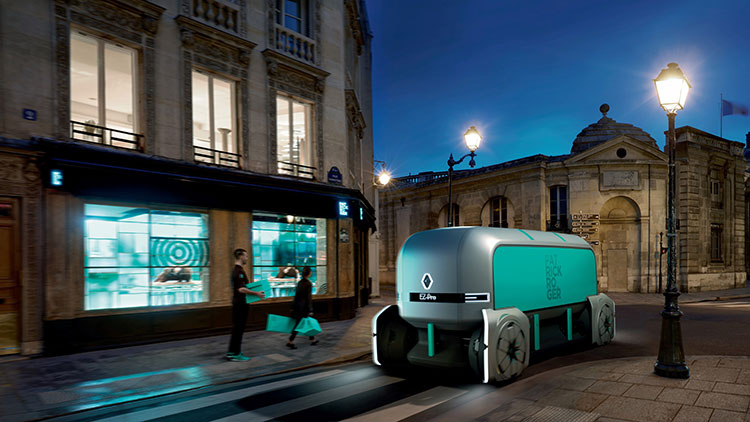 EZ­-PRO styling has been designed to minimize its visual impact and enhance the pods' integration into the urban landscape. The satin finish of the bodywork, the wheel fairings, and the glossy appearance of the opening panels and reflective properties help to make the pods unobtrusive in the cityscape.
Last mile delivery makes up 30% of traffic in cities ­ a burden which EZ-­PRO can help relieve thanks to its shared shipping delivery solution, flexibility and autonomous driving. These will contribute to fewer vehicles on the road during rush hour, and fewer traffic jams caused by poor driving habits or badly parked delivery vehicles. Smooth traffic flow will be further enhanced by connecting the robo­vehicle to city infrastructures like traffic lights and traffic control center. EZ-­PRO is part of a series of Renault concepts that focus on urban mobility services. EZ­-PRO follows the introduction of EZ-­GO an electric, connected, fully autonomous, shared robo­vehicle for transportation of people. With similar aspiration to bring sustainable mobility for all, EZ­-PRO is 100 % electric contributing to a greener and quieter transport system.