Snøhetta designed the interiors and new graphic identity for Barr, a restaurant newly opened on Copenhagen's waterfront. Located in North Atlantic House (Nordatlantens Brygge), Barr is a casual restaurant focused not only on the Danish, but also on the broader food and drink traditions found in the region along the North Sea; an area that spans Scandinavia, Germany, Benelux and British Isles.
The restaurant's name (meaning "barley" in old Norse), reflects chef Thorsten Schmidt's fascination with the region's food and drink history and culture. The concept of gestalt, meaning an organized whole that transcends the smaller constituent parts from which it is built, informed the overall concept of the design. To this end, Snøhetta looked to microscopic studies of foods and beer from the region, which influenced everything from the color palette to the furniture.
Throughout the restaurant, the design is driven by a strong duality and juxtaposition of the old and the new. When entering the restaurant, guests are met with a warm oak floor, contrasting with the rough texture of the original stone walls. A massive, carved wooden counter stretching from one room to the other anchors the space. The ceiling is alternately composed of the original ceiling beams and new, sculpted wooden planks, which are embedded with brass details that reflect micro spots of light. Raw materials like wood, leather and wool evoke the restaurant's Northern influence.
"Designing within the context of a listed building meant that we needed to understand the space carefully," commented Peter Girgis, Senior Interior Architect, Snøhetta. "Reflecting Thorsten's overarching vision for Barr, we believe we have created a feeling of formal informality. Together we have created new components, including custom furniture and cabinetry, which enhance Barr's identity and philosophy, while at the same time providing a connection to the original noma space."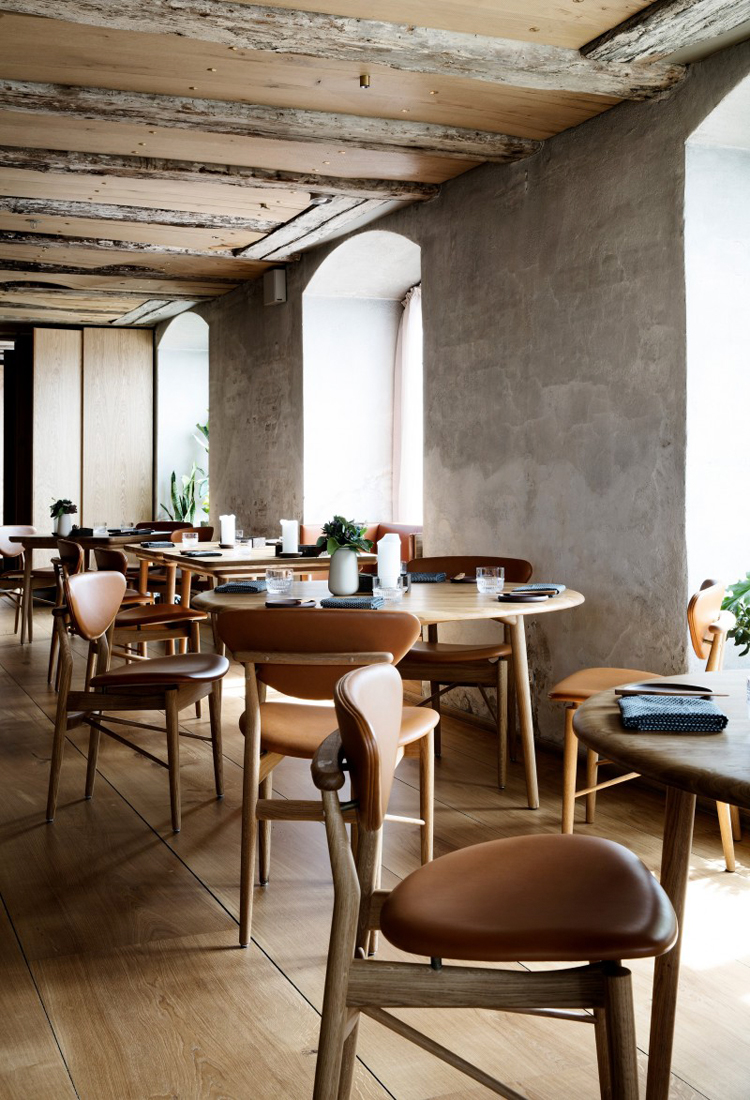 all images © Line Klein