French artist Pierre Huyghe has realized a new site-specific installation for the roof garden at New York's Metropolitan Museum of Art. Huyghe has spent the past 25 years working across media to create ritualistic situations and immersive encounters. At the Met, his project explores the transformation of cultural and natural resources through an evolving process and a complex network of elements taken from the surrounding environment.
Huyghe has created an evolving organism continuously generating itself, a dynamic mesh of interconnected parts, objects and living entities, that emerge, transmute or disappear, perpetually in a transitional state, changing at their own rhythms and intensities. It is a process spread all over the roof, from the behavior of living fossils hosted in a pulsating glass tank to a leak that crosses thresholds–all unfolding in an uncertain navigation that travels through different states of matter and life.
In addition, the museum presents the New York premiere of Untitled (Human Mask), a 19-minute film by Huyghe that depicts a creature's survival following natural and man-made disasters. The film is on view inside the museum through 9 August 2015.
The Roof Garden Commission: Pierre Huyghe will be on view until November 1, 2015 (weather permitting).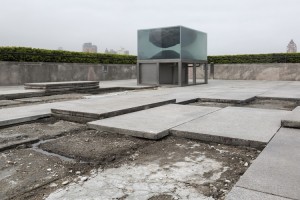 images by Hyla Skopitz / The Photograph Studio / The Metropolitan Museum of Art © 2015