Lily Jencks Studio has teamed up with Nathanael Dorent Architecture to refurbish this house in Scotland built within the existing stone ruins of an old farmhouse, with beautiful views northwards for more than 50 miles down two valleys. Located in a remote countryside area, this project was conceived to near passivhaus standards with a super-insulated envelope and use of solar energy.
The existing ruin, originally constructed in the 18th Century, was transformed several times revealing a palimpsest of occupation on the site. The architects wanted to highlight this historical layering by adding a sequence of counterpoint materials and geometries within the design. The first layer is the existing stone wall, within which sits a black waterproofing EPDM rubber clad pitched-roof 'envelope', and within that a curvilinear interior 'tube' wall system. This interior curved surface is made of insulating recycled polystyrene blocks within a gridded wood structure and is covered with Glass Reinforced Plastic.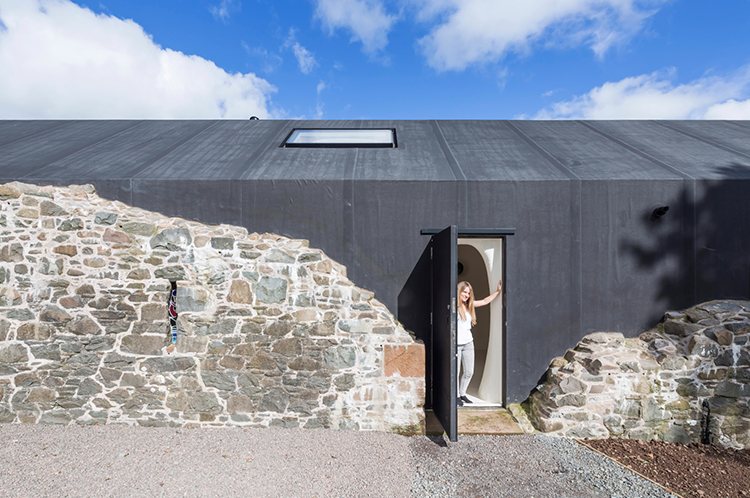 Emphasizing the narrative of time, these three layers also reflect different architectural expressions: the random natural erosion of stone walls, an archetypical minimalist pitched roof, and a free-form double curved surface. These three layers are not designed as independent parts, rather, they take on meaning as their relationship evolves through the building's sections. They separate, come together, and intertwine, creating a series of architectural singularities, revealing simultaneous reading of time and space.
In the 'tube'are the more public programs of kitchen, study, sitting and dining room. At both ends of the house, the 'tube' detaches from the 'envelope' to create rooms that are used for the more private functions of bedrooms, bathrooms and storage. To access these spaces, the tube's non-linear curved surface ramps up, producing a dynamic sensory experience.
The existing ruined walls, and views from the site, dictate the locations for large windows and doors. At these openings the tube funnels out towards the light, creating a 'poched' space, that can be used for furniture and storage. Book shelves, a sofa, and seat furniture are created by 'pulling' the structural grid through the surface of the GRP walls and seem to be peeling off the tube.
The landscape around the house is of rolling hills with drystone walls defining cow fields. The juxtaposition between straight ancient stone walls and organic topography continues in the garden with gentle landforms bringing the distant landscape towards the house. To the North the walls of the surrounding ruins are extended to define a more formal planted garden.
"We have preserved the ruin walls, and reinstituted the pitched roof that would have been there originally, providing an external coherence," explain the architects. "However, the matt black rubber exterior and soft curves of the interior are a more counterpoint preservation, accentuating this palimpsest nature of occupation on the site, and pleasures of living within layers of history."
all images © Sergio Pirrone