After the success of the Run Colors store in Poznan, Polish studio mode:lina architekci were once again chosen to design the interior of the new Run Colors store in Warsaw. 
Shop, beyond its obvious function, from time to time also becomes place where new shoes models premieres happens, and thus the events with accompanying artistic happenings. It has its habitudes, for whom such events, mainly due to the shoes, have become almost cult thing. Hence the designer's idea to create store – the temple, where sneaker cult rocks.
Shape of the interior was main inspiration for "spirited" theme of the project. Space, where shop is placed, is a basement of an old tenement house, whose arched ceilings remind of the Gothic cathedral ceilings. Architects have used and emphasized their shapes by matching them with shoes shelf. The shelves, from time to time, there are illuminated with sneaker graphics that looks like stained glass.
Entire interior fullfill details such as carpets, chandeliers and glass platters, designed to expose the most interesting shoes models. Every element of the store is playing with convention of the temple.
Neutral colors allow the visibility of colorful shoes and creates the appropriate background for the often arising in store murals. Installation, created entirely from plywood, not only continues the mild colours concept, but also is an interesting and at the same time low-budget solution.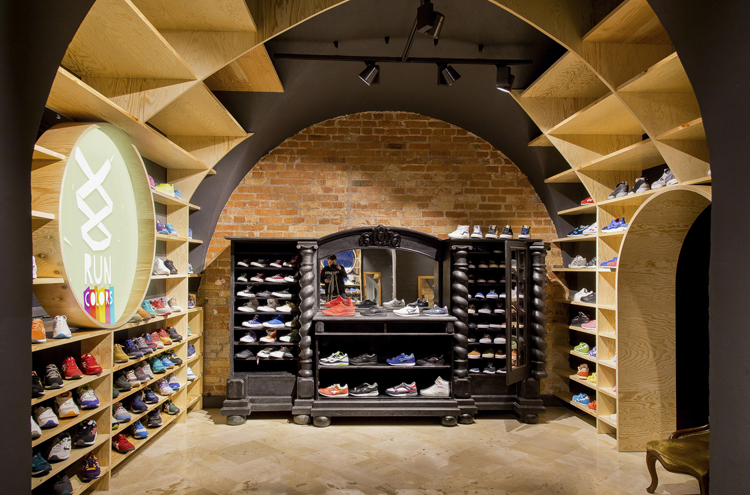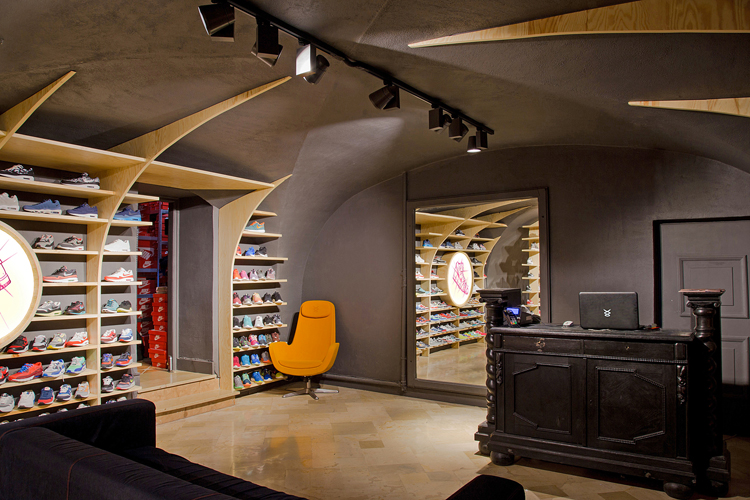 all images © Mateusz Chmura | MatCloud