Located on the Expo's main street Decumano, the Russia Pavilion for Expo Milano 2015 by Moscow-base architecture studio SPEECH is a 3,260 square meter building which features a 30-meter long floating entrance canopy with a curving mirrored underside and a roof garden.
The cantilever has a striking curved form, giving the structure a memorable silhouette which is clearly visible in the Expo's panorama. From the side of the main entrance the cantilever is lined with polished stainless steel, so that not only does it provide visitors protection from rain or sun, while at night it reflects the light of lanterns, but it has itself become an "attraction" – a gigantic mirror in which people can photograph themselves and their surroundings.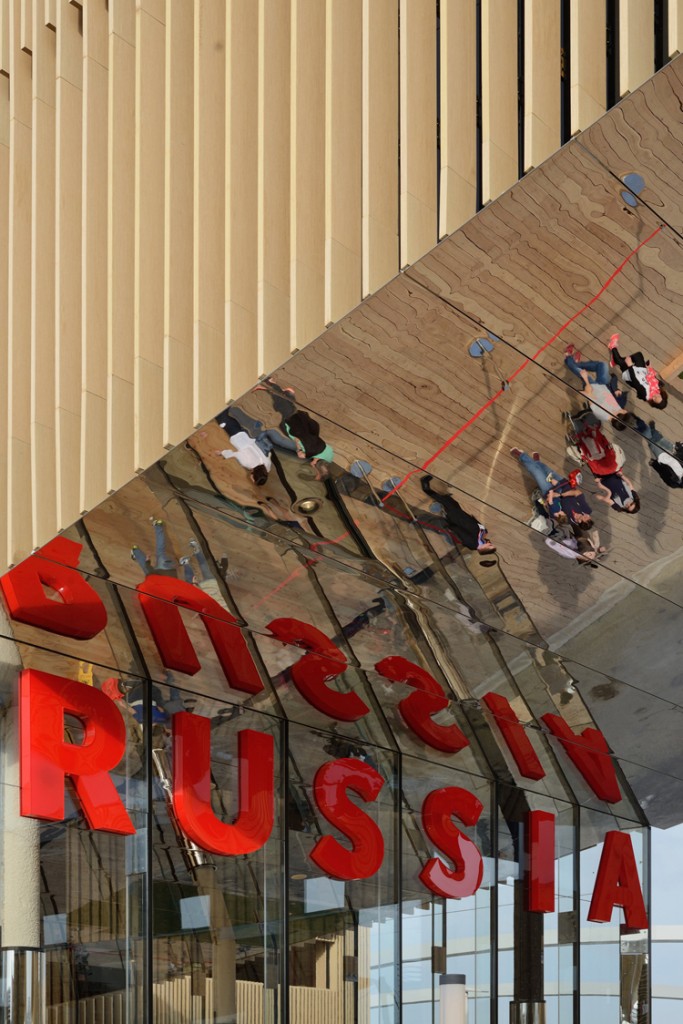 One of the key ideas of this project was the continuity of the over 100-year architectural tradition of the Soviet Union and Russia participating in the world's fair. The facilities for the national pavilions were built in various styles – these were structures of constructivism in the 1920s, and Art Deco in the 1930s, and modernism in the postwar period, but common features can be clearly traced in their architectural appearance: the pavilions have a dynamic, simple and easy to remember form with mandatory emphasis on the main entrance area. This is the idea that the architects of SPEECH tried to embody in their design using the language of contemporary architecture.
It is also significant that all the pavilions at the exhibition are very close to one another, and when you go down the main avenue, you actually do not perceive them separately because the buildings are too dense. The Russian pavilion in fact has a very important view point: when visitors turn off the decumanus towards the pavilion and see the narrow area in front of its main entrance. The cantilever faces precisely this area.
Wood was selected as the principal material – at the same time it is the most environmentally friendly and the most traditional for Russian architecture. The entire top tier of the pavilion is finished with wood paneling, while the lower tier is faced with transparent and opaque glass. The entrance area is executed out of transparent glass and is an approachable, inherently conventional boundary between the Expo territory and the exhibition.
The interiors of the pavilion area are also designed by SPEECH: the mirrored ceiling is echoed by the load-bearing columns trimmed in stainless steel, and the oval shaped reception desk is made of wood, picking up and developing the theme of the rigid rhythm of slats on the side facades of the building.
images courtesy of Alexey Naroditskiy