Samsung has unveiled its new vertical Sero TV, flipping the conventional screen 90-degrees and adding NFC-compatibility. Samsung analyzed the characteristics of the Millennial generation, which is familiar with mobile content, and presented this new concept TV which is based on the vertical screen, unlike conventional TV.
The new Vertical Seto TV is based on the fact that most of the mobile contents are in the vertical form, and it is possible to synchronize the screen of the mobile device and the vertical screen through the NFC technology (short-range wireless communication). The inclusion of NFC will allow users to send content from their phones to the screen which sits on an axis and can be turned to mimic a typical mobile screen.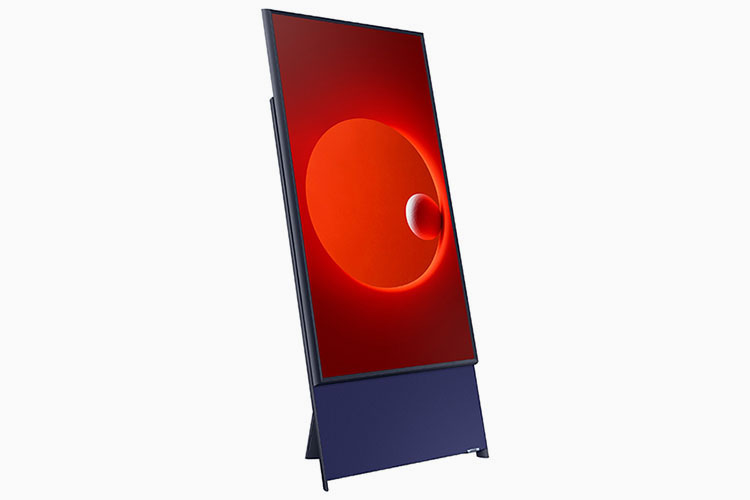 In addition, if the content is changed from portrait to landscape, the TV screen can be rotated horizontally to provide a viewing experience similar to that of a conventional TV.
The Vertical Sero TV is not only a useful feature of the screen but also a sound performance. It is equipped with a 4.1-channel, 60-watt high-end speaker and can be used to play various online music services such as Samsung Music as well as music stored on smartphones.
The design of The Vertical Sero TV is different from the existing TVs. It has a simple, slim appearance and modern navy blue color, also featuring a neat 360-degree clean design to the back. In addition, when you are not watching TV, images such as images, photos, clocks, sound walls, etc. can be displayed to create a unique interior, and the built-in microphone of the artificial intelligence platform Bixby and remote control can easily control various functions.
The Sero TV will offer consumers 43-inches of Instagram Story-appropriate broadcasting and is set to launch in Korea at the end of May ₩ 18.9m WON (∼ $16,300 USD). No news has been spoken just yet whether the millennial-ready TV will come stateside.