Local studio Odami stripped back a Toronto townhouse that dates back to the early 1900s to create the ultra-minimal interior of Sara restaurant. Odami was challenged to preserve the architectural history of the structure while creating an inviting setting for over 50 diners.
The restaurant concept envisioned an approach to the dining experience where guests could disconnect from the devices of the outside world to more deeply connect with one another.   To bring this to life, the design became about providing a profound sense of place on one hand, and on the other, about providing a sense of calm.
On the exterior, several layers of paint were removed to reveal the original character of the building, exposing the red and yellow brickwork which had been hidden for decades. To play with the proportions of the interior spaces, the structure was opened up entirely by removing and re-framing all of the floors, resulting in an intimate, vaulted main floor dining space contrasted by the expansive double-height dining room on the second floor.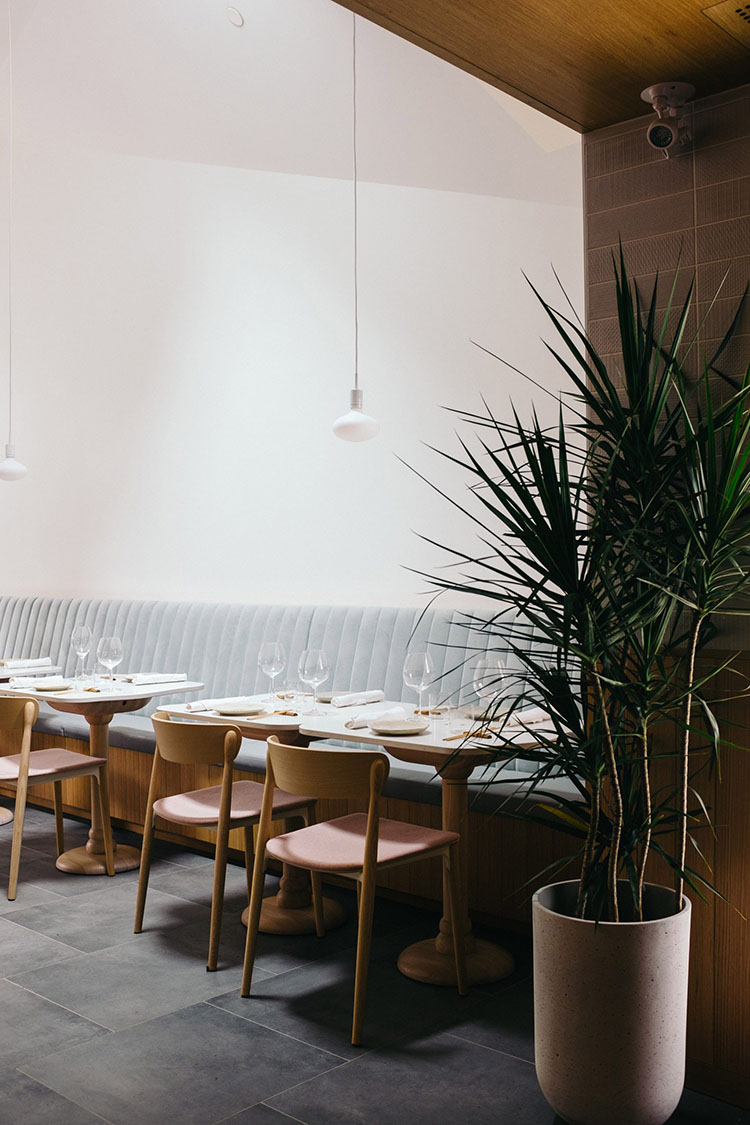 For the furniture design, material palette, and interior detailing, the intention was to channel the sensation of being at the edge of a body of water — a place of calm and escape. To bring this idea to life, a strict horizon line expands across the two main dining rooms, created by oak wainscoting and the top of the banquette which wraps the walls.
Anchored by the mineral quality of the porcelain flooring, these highly-textured elements of wood, velvet, and leather combine to provide a sense of weight, grounding guests in the space. Above this, the walls in the two dining spaces are treated much differently to amplify their individual characters.
On the ground floor, to increase the sense of shelter and intimacy, Odmai applied a heavy plaster texture, while upstairs, the walls and ceilings disappear into an expanse of pure white to provide a feeling of breezy lightness; no wall-mounted fixtures, and no unnecessary decor or objects to disturb the eye or mind. Together, the spaces exude a character one can describe as "earthly minimal," a blend of the tactile qualities of the land and sea with the calmness of minimalism.