Known for his legacy of cool custom Yamaha motorcycle creations over the past 20 years, Southern California-based builder Jeff Palhegyi and the team from Jeff Palhegyi Designs introduce their own interpretation of the 2017 Yamaha SCR950.
"The SCR950 is a motorcycle that can serve multiple needs for a rider," commented Yamaha Motor Europe Marketing Coordinator Cristian Barelli. "Whether you want to cruise to the beach or get lost in the mountains, it's a really versatile machine that can deliver totally different riding experiences without losing the fun and true riding spirit that is found in all Yamaha's Sport Heritage machines."
It is Palhegyi's diverse conceptual skillset that drives his current projects, based on 29 years of research and development experience with Yamaha Motor Corporation that has included ATV and side-by-side projects in addition to motorcycles. He owns and regularly shows several rare Yamaha vintage motorcycles, including TZ750's and XS dirt track racers. With this passion and heritage in mind, the latest Yard Built project from Jeff Palhegyi Designs drew inspiration from a 1966 YDS3C Big Bear Scrambler.
"After seeing the SCR950 for the first time, I knew that it would be a really cool bike to customize," said Palhegyi. "But there have been a lot of scrambler builds lately, and we wanted to do something really different. It was during the press introduction ride that I saw the Big Bear Scrambler displayed next to the SCR950, and it ultimately became the inspiration for the build."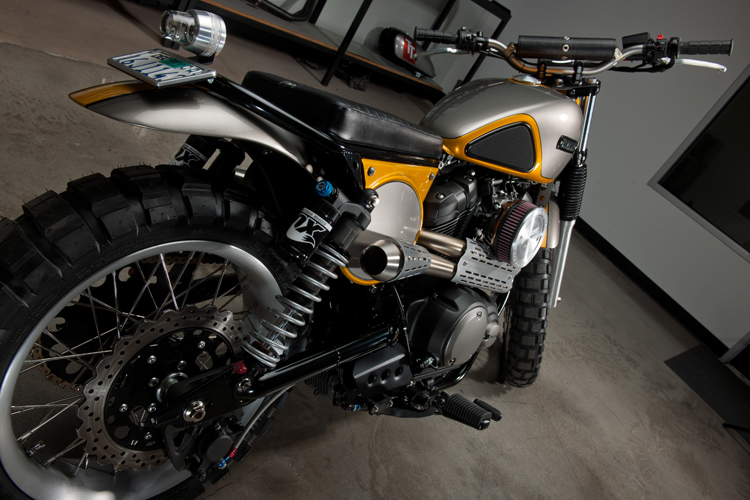 The finished project clearly pays homage to the Big Bear Scrambler, with features like the inlaid Yamaha logo and rubber knee grips on the fuel tank, two-tone paint and a custom exhaust system with heat shields that harken back to the days of do-it-all motorcycles. Other custom features make this 'Faster Son' truly a motorcycle for modern times. From the Renthal handlebars wrapped in Duane Ballard Custom Leather that matches the seat and front fork tool pouch, to the shortened swingarm suspended by Fox RC1 Podium 14-inch performance rear shocks, contemporary specialty components blend with style from the past.
The shot glass rear taillight lens exemplifies this blending, along with the custom sub-frame and side panels, custom vintage off-road style front and rear fenders, chunky Shinko Adventure Trail tires mounted on Ride Wright 40-spoke aluminum soft lip wheels, custom aluminum headlight bracket and skid plate, steel braided brake lines and a "Faster Sons" custom logoed aluminum cover for the K&N air cleaner.
"I'm really pleased with this build," commented Palhegyi, "and I really want to thank my team for working with me to pull it all together from artistic concept to what you see today." Head over to Jeff Palhegyi Designs' website to see more customs.
 all images courtesy of Yamaha