Scribit, the Carlo Ratti-invented robot that turns vertical surfaces into canvases, has teamed up with leading artist Olafur Eliasson's non-profit Little Sun to draw an illustration of the sun's path in thousands of people's homes. Collectively, the paintings have the ambition of becoming the world's largest mosaic, scattered across the world.
Scribit–one of 2018's top crowdfunding campaigns–is the world's first write&erase robot that can turn any vertical surface into a low-refresh screen on which to display information from the web, user-generated content and art. Functioning as a "printer for walls," Scribit ushers in a new way of presenting digital content and allows users to instantly personalize a vertical plane.
Part of Scribit's mission to "bring color to your life," the collaboration with Olafur Eliasson's Little Sun inaugurates a series called Scribit Originals, which will bring content by world-known artists, designers, poets, scientists and public intellectuals into people's homes and everyday spaces.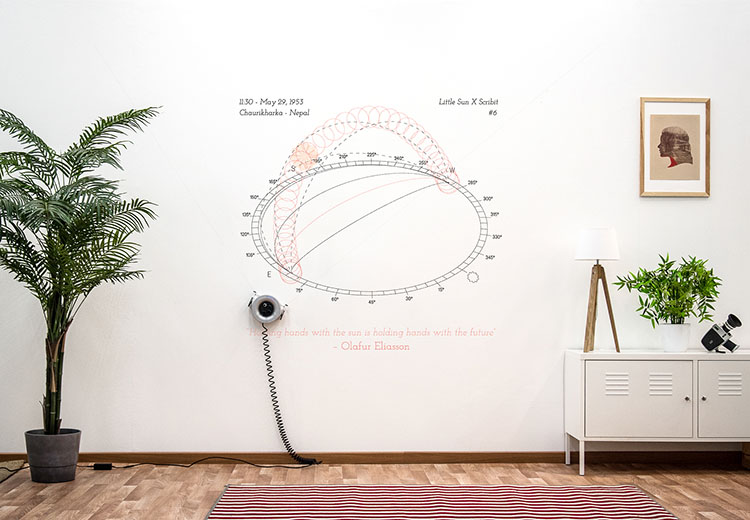 As part of the project, Scribit users can input a specific date, hour and location into the app connected to the robot, generating a unique representation of the relationship between them and the sun at their chosen place and on their preferred day of the year.
When the robot receives the information, it activates and draws the custom chart on a wall, canvas or other vertical surface. Each sun path chart will be part of something bigger–a visual, collective statement for climate action that reunites and connects people under the same sun.
"Paul Valery once said that innovation transforms art, 'thereby affecting artistic invention itself and perhaps even bringing about an amazing change in our very notion of art,'" says Carlo Ratti, inventor of the write&erase robot and director of the Senseable City Lab at the Massachusetts Institute of Technology (MIT). "We are very happy about this collaboration with Olafur Eliasson's Little Sun, with whom we share the passion for innovation and participatory projects. Scribit aims to narrow the gap between viewer and artist. Through a new kind of Verfremdung, art becomes a dialogue, an exchange, an evolving interaction."
The personalized sun path chart, available through the Scribit app on both iOS and Android, can be accessed here.
Scribit was born as part of CRA's research on open source design and vertical drawing, which began at the 2012 Istanbul Design Biennale and draws inspiration from Werner Herzog's documentary "Cave of Forgotten Dreams"–about the Chauvet Cave in southern France that contains the oldest human-painted images yet discovered, dating back 32,000 years. Scribit aims to continue our ancestors' epic journey–expressing ourselves on the canvases that bound our lives.