Shake is a retro-chic soul music club and fine dining venue tailor designed by Italian architecture and interior design firm Kokaistudios drawing inspiration from the style and the energy of soul clubs of the United States in the 1960s. Located on the top floor of a recently renovated low-rise building on Maoming Road in the historical center of Shanghai, Shake has quickly become one of the city's hottest night-time joints.
Upon stepping in the front door of Shake, visitors are invited to travel back in time into an environment similar to a soul music supper-club in 1960's New York. The marble bar counter is one of the central poles of the space; its fluid shape is aesthetically pleasing to guests, and with uneven floor heights, guests at both the front and the back areas of the bar all have unblocked sight line of both the stage and the bar area while having front row seats on the work of the team of mixologists.
The undulating golden wave panels on the ceiling connect the bar to the stage, which forms the heart of the project. The panels fill both an aesthetic and acoustical role to filter and distribute the sound emanating from the stage around the club. The stage was designed to be able to host a full Soul band including piano and a horn section and the decision was taken to design the stage level with the main floor so as to create a sense of intimacy between the band and the audience; either to be serenaded while eating or else up and close while dancing. This focus on intimacy and the primacy of the musical experience led us to design a club with multiple floor levels in which every seat; from 2 person high tables to the banquettes; has clear sight lines to the stage so as to let the audience feel involved in the show.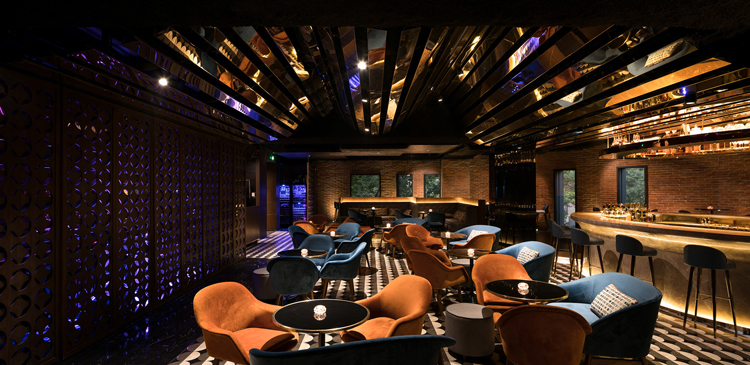 Kokaistudios custom designed the furniture and developed the lighting systems to enhance both the musical experience but also the innovative food experience featuring a customized Asian tapas menu designed by culinary artist Danyi and an extensive selection of top notch cocktails by mixologist Colin Tait. In Shanghai's competitive nightlife scene, Shake stands out with its sophisticated combination of world class Soul music and innovative dining & drinking. Elegant enough to attract a high-end clientele but designed to allow them to let their hair loose and cut a move on the dance-floor.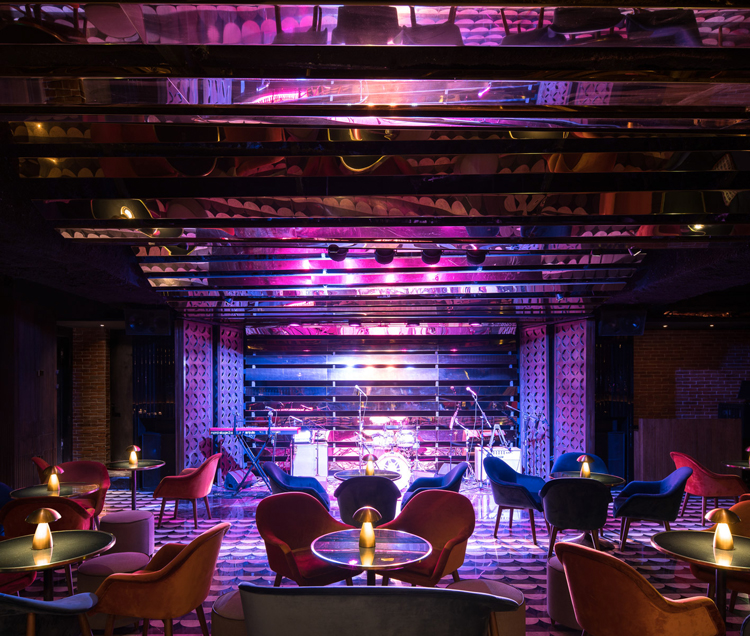 all images © Seth Powers