Located at Shellety Point on the western coastline of South Africa, the Silver Bay Villa by architecture office SAOTA and interiors practice Antoni Associates is a contemporary interpretation of vernacular architecture. Perfectly located to take full advantage of the stunning views and easy beach access, this inviting space ensures warm, yet sophisticated, holiday dwelling.
The upper floor has been conceptualised as a single space holding the pool courtyard, an elevated entrance hall, a kitchen with a large table and a dining and living space on the East edge. The L-shaped space is broken up by level changes which create distinctly different spaces. A conical flue made from Corten steel forms a visual element around which the spaces pivot, the rusted surface reflecting the coastal environment.
A curved Corten 'hat' sits over the braai flue and watches over the pool courtyard, a playful companion for the Corten cone that sits on the other side of the courtyard.
The simple cellular bedrooms have a serrated façade that allows for corner glazing to maximise views. The curtain track was cast into the slab with a radiused corner that creates a cave-like space at night when the curtains are closed. Simple glass walls separate the en-suites from the bedrooms, allowing the two spaces to share a larger volume.
"The interior is a sophisticated eclectic mix of easy living, laid-back, comfortable and robust furniture. Natural timber, charcoal and grey fabrics are accented with washed-out red patchwork kelims, and blue log stools. Natural materials and textures such as pewter-coloured grass cloth wall coverings and woven baskets add tactile finishes that layer the spaces. Proportions are over-scaled and inviting. Large sofas are nested with clusters of cushions and throws and instantly reflect relaxation. Spaces are cocooned and layered and have a sense of home," says Mark Rielly of Antoni Associates.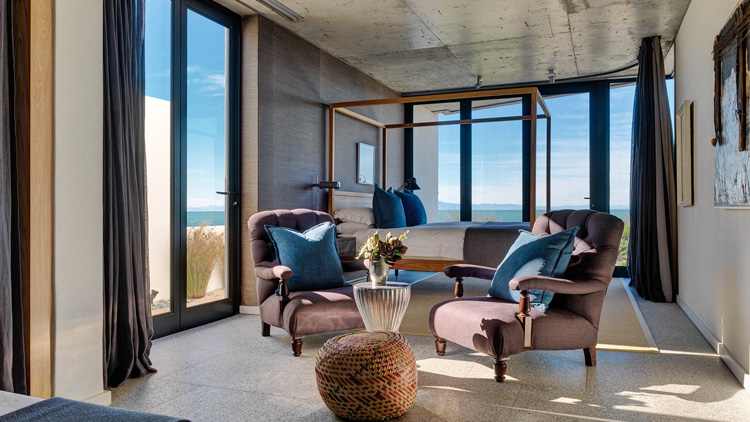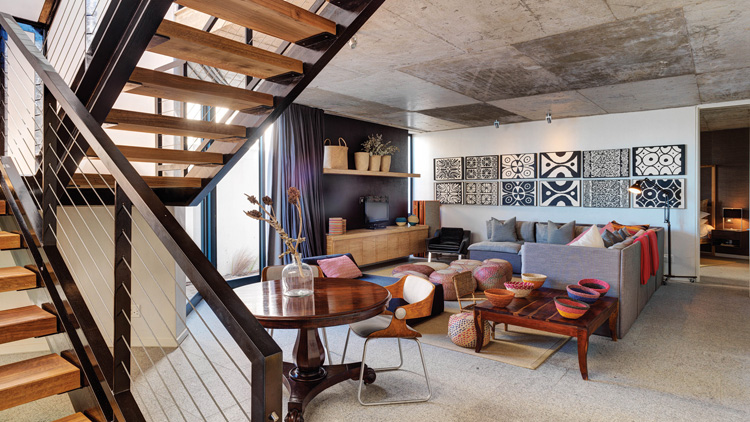 all images © SAOTA, ADAM LETCH & ENDA CAVANAGH