Tucked into the woodland in a rural town in Princeton, Massachusetts, USA, the Silver House by Bryanoji Design Studio explores an alternative definition o­­f 'luxury'. A luxury attained through an honest response to the site context, not through radical exploitation of flamboyant forms, expensive materials and technologies.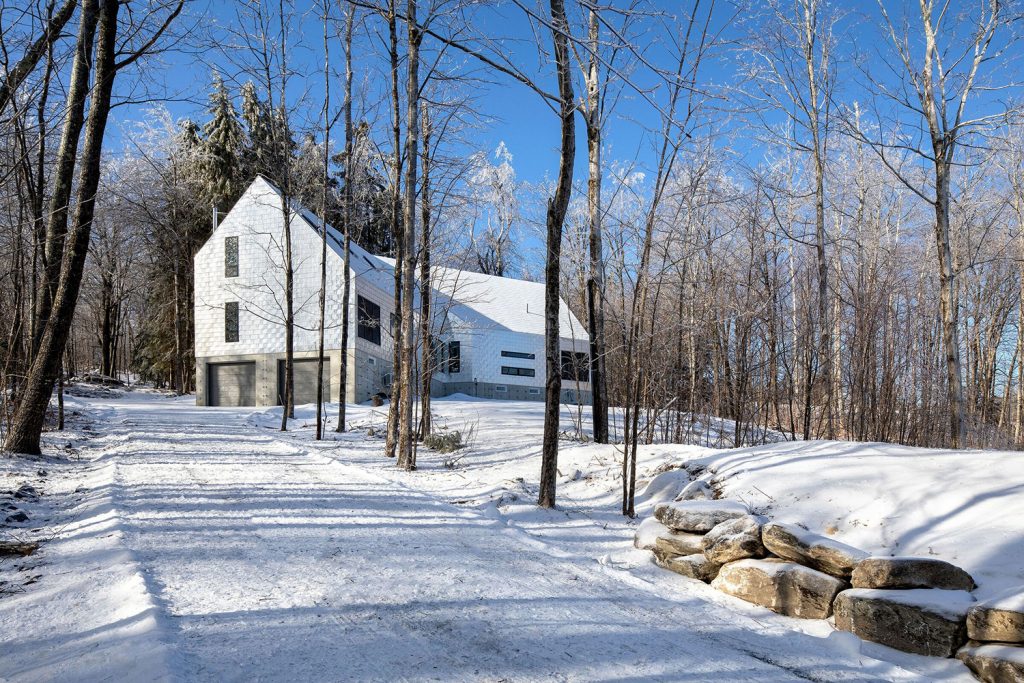 Mill-finished aluminum shingles provide a sense of order to the exterior to this architecture. From a distance, it is a box with a familiar scale and form that blends in with the surroundings. From a mid-range, one starts to recognize the architectural discourse. Standing next to it, one understands the interlocking details and the beautifully articulated mechanism behind the complex expression. The house becomes one with the landscape, reflecting continuous gradation of surrounding colors, adding a sophisticated poetry to a simple life in the woods. These aluminum shingles are 90% recycled/recyclable, warrantied for lifetime. Aluminum's physical property to reflect light, coupled with super insulation, provides comfortable interior conditions without air conditioning.
Interior finishes and built-in furniture were limited to plywood and OSB (oriented strand board) with no decorative trimmings. The open floor plan minimized the need for doors and thresholds. In return, his rather stoic approach expanded client's freedom for space use, an essential criterion for single-family homes.
Inspirations for both sustainability and visual interests were sprinkled throughout the house. 3/4″ thick plywood sheets, used as scaffoldings during construction, were repurposed as built-in cabinets, significantly reducing wastage. Housing for the LED lights were made with recycled bleacher seats from a local gymnasium. A swing bed on the porch, desktop surfaces were made with refurbished materials obtained from the town recycling center. The exterior marble steps are 100-yr-old blocks, recycled from the state capitol of Rhode Island.
This building was a true collaboration of an architect and a client, both of which were romantic, pragmatic, open-minded, and had a mutual determination to create a house by thinking "big" and acting "humble".