Atelier Chang has designed a cluster of colorful tents for the SJCC Glamping Resort to offer tourists a luxury camping experience on a cypress-covered mountain near the South Korean city of Suncheon.
This new 'minimalist luxury' resort – adjacent to the Seungju Country Club in Suncheon – consists of sixteen brightly-colored living units with an associated reception/restaurant. Each unit offers guests approximately 50m² of living area, as well as two bedrooms and a kitchen and a bathroom manufactured as off-site units.
"We wanted guests to feel as if they are living deep in the forest – directly in touch with the natural environment rather than being disconnected from it, as is the case with many 'destination' resorts," said Soohyun Chang, the founder of London- and Zurich-based practice Atelier Chang.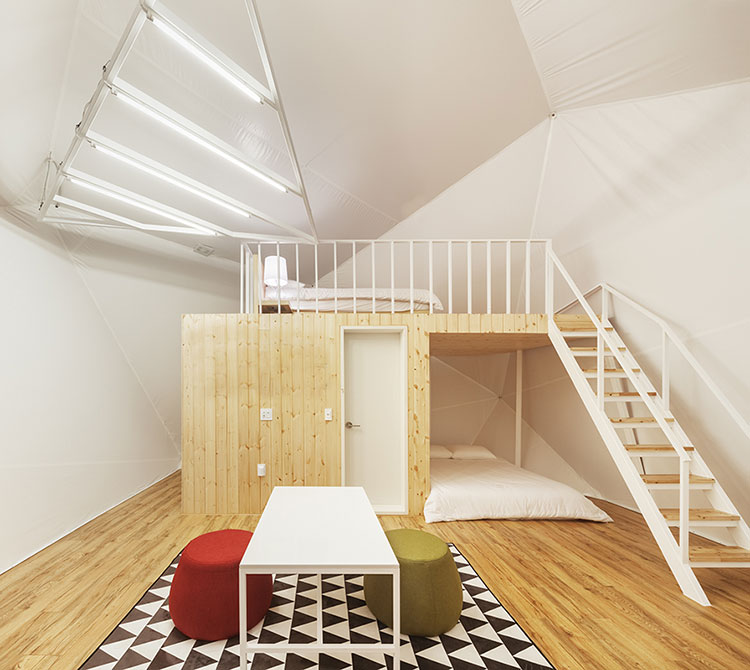 The project is located some 300 kilometers south of Seoul within lush cypress forests and enjoys distant views over the Korean Strait. Drawing diverse references from natural elements such as the site's dramatic topography, pebbles, and fireflies, the resort offers guests a direct and vivid connection with their natural surroundings. Each unit is well-screened from surrounding units while offering guests dramatic views over Suncheon Ecological Bay.
The light-weight steel frames, covered with an insulated tent-like fabric, create highly resilient structures which are capable of withstanding the region's significant annual differences in climatic conditions.
The resort includes three principal types of glamping unit: 'Mountain', 'Cutent' and 'Firefly', each of which has a distinctive plan and color scheme. The restaurant/community facility forms the focal point of the resort. The restaurant and viewing terrace are screened by an elegant geometric arrangement of white steel louvres, mitigating solar ingress.
Atelier Chang developed a new, patented technology to achieve both the comfort and lightness which the space and design concept demanded. This technology uses double layers of fabric with insulation between layers to keep the glamping units sustainable and viable in a climate where annual temperatures can range from as low as minus 20 degrees to as high as 40 degrees Celsius. The units – when properly maintained – are expected to have a lifespan of at least 10-15 years.
It is hoped that the design concept employed at the SJCC Glamping Resort can be adapted to create similar facilities across Asia, Europe, and North America in the future. Atelier Chang is also looking at how this design can meet the growing need, globally, for low-cost, well-designed housing units which can be delivered quickly to meet demand.