Architecture firm Snøhetta has completed its redesign of New York's Times Square, almost doubling the pedestrian areas of one of the busiest place in the US. The Times Square Reconstruction radically carves out 2.5 acres of pedestrian-only space at Manhattan's core, transforming a notoriously congested intersection into a world-class civic space.
The design of the new plazas empowers people to move in a natural, comfortable way through Manhattan's core. With a measurable positive impact on public safety, air quality, and economic output, the project stands as a model for how the carefully considered design of our urban landscapes can improve the health and well-being of its users, while providing an important space for democratic gathering.
Conceived as a project whose success would be measured not only by its new aesthetic but also the long-term physical, psychological and economic benefits on its local and global community, the new plaza on Broadway has reinvented Times Square as a contemporary stage for the spectacle of public life, reviving its place at the heart of New York City.
Sections of Broadway have been closed to traffic since 2009, a move intended to promote pedestrian use. Prior to street closure, the pinch point caused by the intersection of Broadway where it meets the North-South running 7th Avenue posed a hazard to pedestrians and car traffic. Narrow, overcrowded sidewalks forced pedestrians to spill into the roadways. The new permanent plaza on Broadway has transformed a congested vehicular district into a vibrant public space in the heart of New York City. Pedestrian injuries have decreased by 40%, vehicular accidents have decreased by 15%, and overall crime in the area decreased 20%.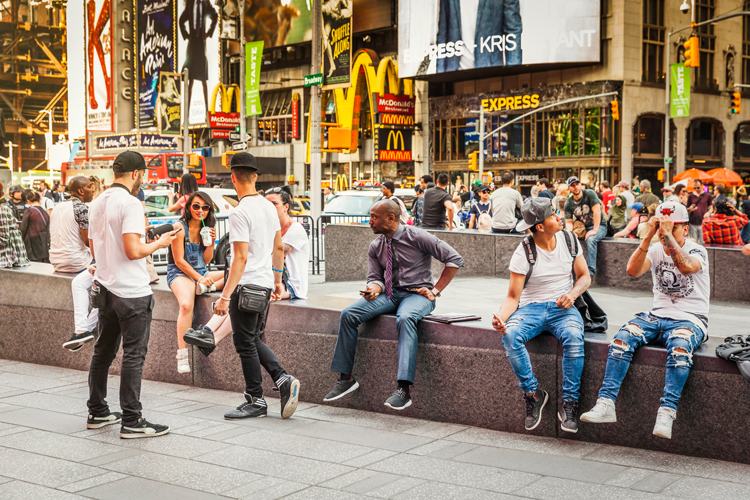 On average, 330,000 people move through Times Square every day. Understanding the magnitude of these crowds and patterns of movement was fundamental to creating a successful new life for one of the most iconic public spaces in the world. Snøhetta's design creates uncluttered pedestrian zones and a cohesive surface that reinforces the Bowtie's role as an outdoor stage.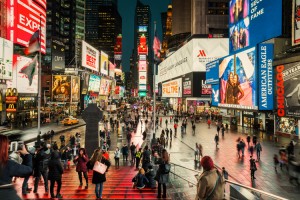 all images © Michael Grimm