At this year's Milan Design Week, Sonia Pedrazzini unveils Le Morandine, the iconic collection-homage to still life master Giorgio Morandi, in the heart of the city's Brera Design District. "Le Morandine," Sonia Pedrazzini, creator of the project and founder of the brand tells us, "above all represent a conceptual work which, through the tools of design, reappropriates Giorgio Morandi's poetics and compositional methodology to bring the objects which the master represented in his still life works back into three dimensions".
This led initially to a limited edition of artistic candles, followed by a collection of ceramic vases, whose forms are evocative of Morandi's still life paintings; they are a range of small accessories realised in the master's typical colour palette, characterised by the matt, chalky appearance of the day-to-day objects which the artist found and repainted before immortalising them in the waxy light of his paintings.
Le Morandine are not just simple vases but genuine high-design pieces, silent and austere yet iconic, created with the specific intention of bringing people closer to Morandi's œuvre and way of working. Those who approach these small domestic sculptures indeed know that they will be able to interact with them and arrange them in infinite variations, experimenting with new compositions in the same freedom with which the master arranged his objects before committing them to canvas. Through this poetic collection of objects, a transfiguration of Morandi's painted bottles, each of us is able to "be" like the artist looking on at his intimate and yet universal world.
The collection will be presented during Milan Design Week at the Amouage Fragrance store, which the designer sees as a creative exchange between the objects and the store's products.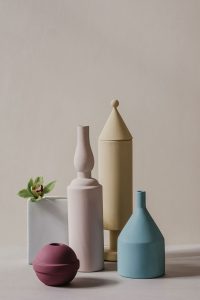 all images ©  Katarina Di Leva