Electronics company Sony introduced its HT-AX7 portable home theatre system that can be configured to easily create surround sound wherever the user wants. By simply placing the speakers around a room, the HT-AX7 delivers a captivating audio experience to fill any space.
Immerse in a surround-sound experience with Sony's 360 Spatial Sound Mapping technology. 360 Spatial Sound Mapping technology creates multiple phantom speakers at the front, rear, and overhead, enveloping a spatial sound in a bubble-like sphere. Experience a surround sound sensation by simply placing three speakers around the room, without the need for special installation.
The HT-AX7 also features Sony's upmixer algorithm which can transform stereo into three-dimensional surround sound. The upmixer analyzes sound in real-time and separates individual sound objects, redistributing them to create a more immersive listening experience. Activate the sound-field effect to experience a surround sound-like effect with 2-channel content. When the sound field is off, place the three speakers in the corners of your room and the HT-AX7 will create the perfect atmosphere with a high-quality, room-filling sound.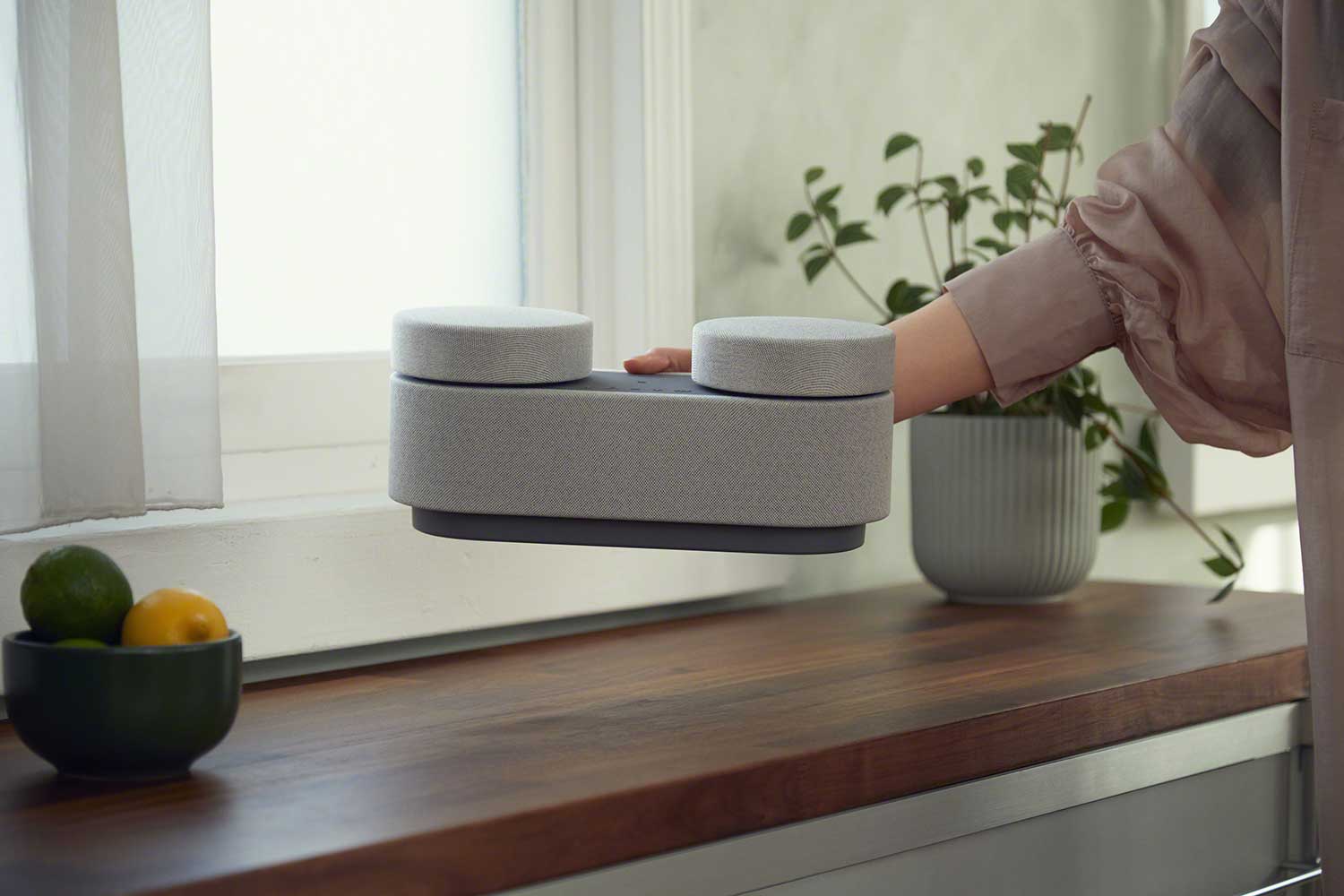 The HT-AX7 does not require any special installation. Simply position the three speakers around a room and experience room-filling sound that enhances everyday activities. With complete wireless connectivity and automatic pairing between the rear speakers and main unit there is no need to worry about complicated layouts or additional pairing.
Setting up the HT-AX7 is easier than ever with the Sony Home Entertainment Connect app. Once the app is downloaded, users will be guided through the initial setup to enable complete control over volume, sound field, and more.
With up to 30 hours of battery life and a quick charging feature that gives up to 2.5 hours of play with a 10-minute charge, there will be no worry about running out of power when moving room to room. Unlike traditional home theatre systems that require a connection to a TV, the HT-AX7's portable design allows content to be enjoyed in a whole new way through Bluetooth-enabled devices.
The HT-AX7's wireless, sleek, and versatile design blends seamlessly with interior decor for a stylish and cohesive look. The lightweight design of the detachable rear speakers combined with the one-handed portability of the unit can be conveniently placed throughout the home.