A small 50 sqm flat within a 1920 Milanese building was recently overhauled by local creative studio AIM. The project comes out of the need to reorganize the space and to solve structural problems related to the age of the building. The bearing wall that divided the living area from the bedrooms has remained the only pre-existing item of the old dwelling and actually it still divides the two macro areas of the house. Nevertheless, the entire layout has been redesigned according to the needs of the new ownership, adding a new kitchen on the living room, optimising spaces. "We decided for a kitchen composed by a unique monolithic volume, made out of burnished steel plates," say the architects.
The kitchen cabinets have been replaced by a Carrara marble shelf, which enhances the room, making it an installation. Great attention is put in the choice of the all the materials and in their composition. Marble and burnished steel interact with a third particular finish: a cement effect, which dresses the whole architectural volume made of corridor, kitchen and living room, creating a perceptive unit and a clear separation from the sleeping area.
A particular attention has been given to the development of the bathroom, that becomes a wellness area, characterised by a wide space and precious finishes. Its presence is no longer hidden behind a latch, but it interacts with the living and with the rest of the apartment thanks to a built-in divider in resin.
The bedroom is separated from the rest of the apartment by means of an invisible door with a pivot hinge. Inside it, there's a wide walk-in-closet, whose walls are made out of panels rotating up to 360 degrees, which can be completely opened, guaranteeing an optimal natural lighting, and which can become at the same time dividers and large containers.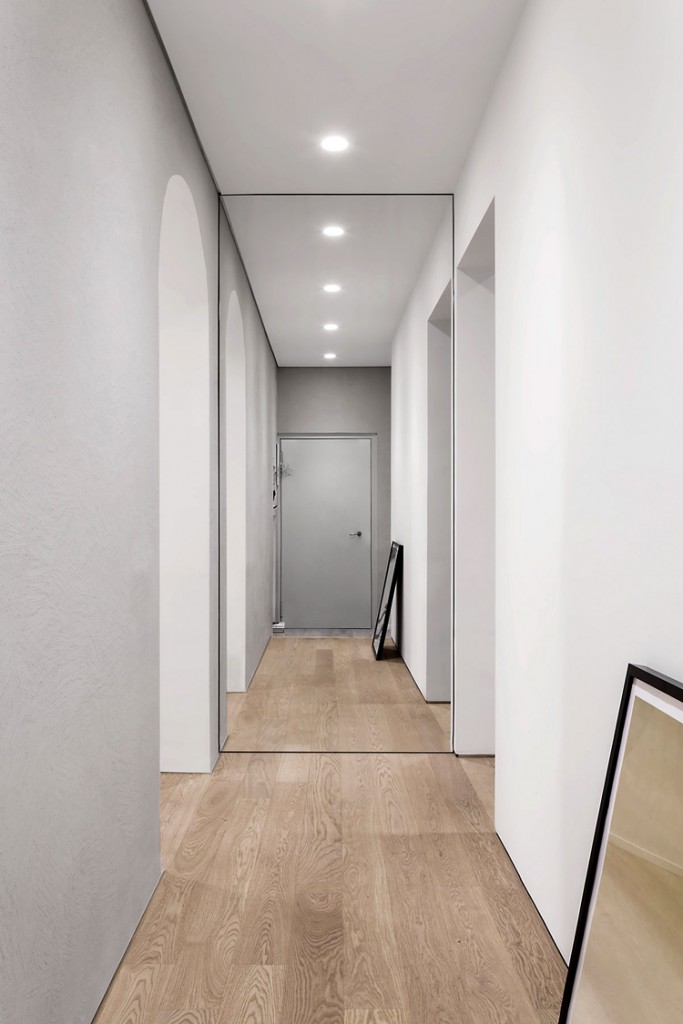 all images © Simone Furiosi | styling Federica Biasi