The Gwangju National Science Museum has recently opened South Korea's first spherical projection theater Space 360.  
In 2006, famous movie director Steven Spielberg outlined his idea on what movie theaters of the future could look like. "Some day in the not too distant future you'll be able to go to a movie and the movie will be all around you. The movie will be over your head, it will be a 360 degrees around you, even be a little bit under you," he said in an interview with Time magazine.
A decade later, his words are becoming reality as spherical immersive 360 theaters are starting to emerge around the world. One of them has been recently built in South Korea. Ukrainian creative studio Front Pictures was responsible for engineering and installing the projection system and software.
Space 360 – which is 12 meters in diameter – is located next to Lucerium National Science Museum in Gwangju. This spherical projection theater can be considered a true VR theater of the future. When visitors step inside, they find themselves on a transparent glass observation bridge, which crosses the sphere's interior. A crisp 360 video projection around, above, and below the viewers fully immerses them as they stand and watch. They literally dive into a virtual world without having to use VR headsets.
The Ukrainian studio of multimedia innovations Front Pictures has vast experience in engineering fulldome theaters and planetariums. The company has delivered around 150 fulldome systems to many countries around the world. But when designing the projection system for Space 360, the company's team had to come up with unique technological and engineering solutions.
Unlike in a conventional digital planetarium, where projectors are located along the dome's perimeter, the options for placing thеm in a full sphere are substantially limited.
"It was necessary to devise a layout that would avoid shadows being cast by the observation bridge, minimize openings for the projectors, while, at the same time, maximizing the resolution and brightness of the projection. It was also important to position the projectors in a way that would prevent them from shining light into the viewers' eyes," said Front Pictures CTO Vitaly Slyusarenko.
To completely cover the 450 sq. meters of the spherical screen, 12 modern Barco PGWU-62L laser phosphor projectors with a 1920×1200 resolution were used for the project. Their ability to tilt at any angle, which is impossible for most lamp projectors, made them a perfect solution for the 360 sphere.
Front Pictures used its proprietary ScreenberryТМ media server for video playback and auto-calibration (stitching images from different projectors together). Four Nikon D610 DSLR cameras were used to collect data needed for the calibration.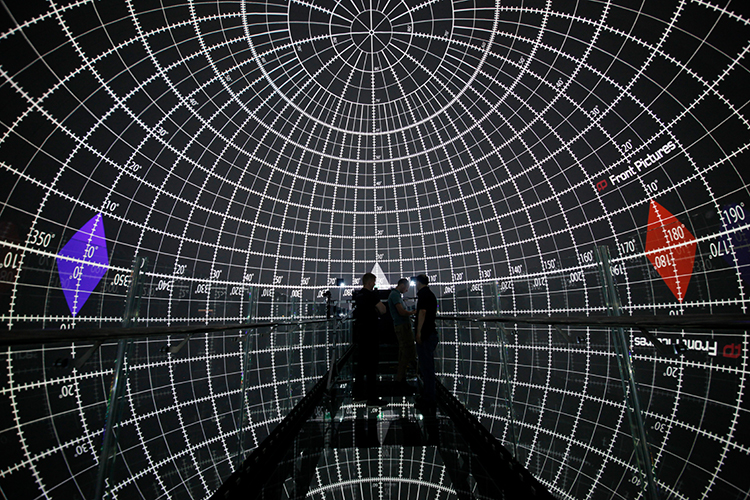 The first show exclusively created for the sphere narrates the history of the world, starting from the Big Bang to the origins of life and onto human civilization. It also tells visitors about energy and green technology. Additionally, the system is capable of playing any fulldome or VR content.
The project was fulfilled on the request of the Gwangju National Science Museum and was sponsored by Korea Hydro & Nuclear Power.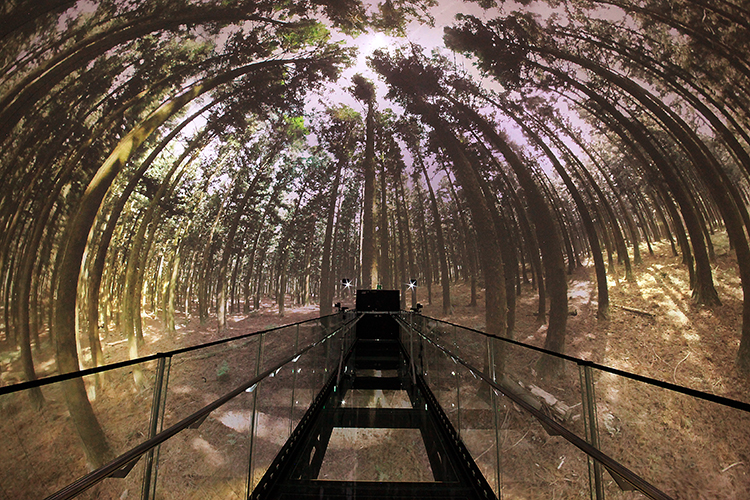 "The spherical projection theater creates new possibilities for education and entertainment. It can 'teleport' viewers to any place on Earth or in the Universe with its unbelievable immersive effect. It was a great pleasure for us to be a part of this futuristic project, which truly embodies the innovative spirit of South Korea. We also believe it is a significant step towards the future of cinematography," said Front Pictures CEO Yuri Kostenko.
all images and video courtesy of Front Pictures