Desert X, one of the most anticipated exhibitions of the year, returns for its second edition. The outdoor event will activate the desert landscape through nineteen site-specific installations and performances by some of today's most recognized international contemporary artists. As part of the project, Los Angeles-based artist Sterling Ruby has created Specter, a fluorescent orange monolith which appears as an apparition in the desert. The bright, geometric sculpture creates a jarring optical illusion, resembling a Photoshopped composite or collage, as if something has been removed or erased from the landscape. 
Located off Snowcreek Canyon Road in Whitewater, California, the block acts as a cipher or stand-in, mimicking the form it could be — a shipping container, a military bunker, an unidentified object, an abandoned homestead. Fluorescent orange is traditionally used for safety, as a warning. Here that logic is reversed: a ghostly object, set apart from the natural environment, hiding in plain sight.
2019 Desert X exhibit will explore ideas of site-specificity, the frame of post-institutional art and the interactive possibilities that attend it. Diversifying the range of media presented in 2017, Desert X 2019 will add film projects and evolving, process-driven works to its presentation, which will span fifty miles across the Coachella Valley and beyond, expanding to the south to explore the ecological bellwether of the Salton Sea, and further across the border into Mexico.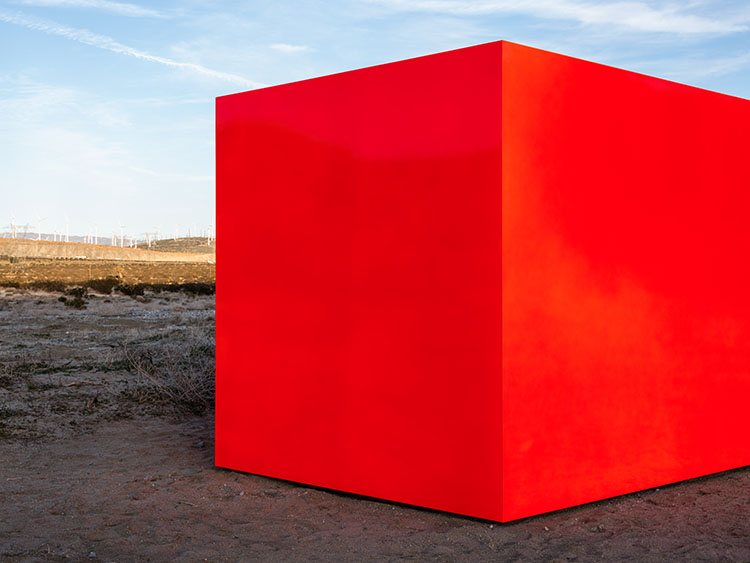 Sterling Ruby (American/Dutch, born 1972) is a Los Angeles–based artist who utilizes an extreme variety of media, producing work ranging from pristine to defaced, minimal to chaotic. He frequently employs graffiti and craft techniques and addresses myriad topics such as violence, psychology, Americana, autobiography, and political and societal pressures. His projects are often presented as seemingly vandalized, synthesizing the control of the artist's studio with an appearance of ruin to merge the two facets into an aesthetic harmony. Specter will be on view until April 21.