Following Hong Kong and New York, the very first Street Art Restaurant, De Bajes, opened its 'prison gates' on Amsterdam's Rembrandtplein. Some of the world's most renowned street artists have turned the imposing walls into their canvasses: The London Police, D*Face, Ben Eine and Laser 3.14 were temporarily incarcerated at De Bajes.
"In Bajes, everything we love finally comes together. High quality food and drinks combined with the very best street art," explains the owner Sven Toering. "We've been playing with the concept since 2010, but once the location at Utrechtstestraat 11 became available and we saw those tall, empty walls we immediately knew: this is the place we've been waiting for."
The word 'Bajes' has come to mean 'prison' in Dutch slang, but the original Yiddish meaning is actually 'home'. This particular home has a hugely impressive collection of art. Artists such as Ben Eine, Fanakapan, D*Face, The London Police, Hugo Kaagman, Bortusk Leer, Ox Alien, Juane, Laser 3.14, Soren Solkaer and Cranio were commissioned to work their magic on the walls in De Bajes. Each and every one of these familiar and well-loved names at international art galleries and on the streets. In collaboration with Vroom & Varossieau – the place for 'Urban Contemporary Art' in Amsterdam – De Bajes will even host a variety of exhibitions for big names and up and coming street artists. Odds are works by street art legends such as Banksy and Kaws will someday be on display.
De Bajes
Bar & Bikkesement
Utrechtsestraat 11
1017VH Amsterdam
The Netherlands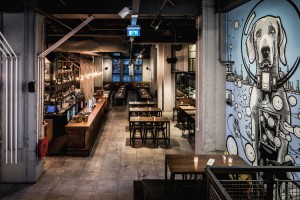 all images © Peter Baas