Australian architecture firm Studioplusthree has transformed a Federation-style cottage in Sydney, into an open, light-filled home for two musicians. The starting point was a dilapidated, water-damaged house containing a warren of dark and uninhabitable rooms.
The rear portion was demolished to provide a series of open living spaces in its place. Located in an area undergoing rapid renewal, the design takes advantage of the detached cottage typology. The narrow side alley, common to this type but often neglected, offered an opportunity to extend the living area to create a lightwell and wall garden, allowing light to penetrate deep within the centre of the house.
The route through the house was conceived as a journey of changing light, colour and materiality. Original Federation interiors have been restored in crisp white, whilst new elements are introduced in a restrained palette of dark timber, steel and porcelain. A contrast of light and dark materiality is used to knit together old and new.
This duality continues in various material combinations. In the kitchen, natural materials are contrasted with the manufactured; such as French-polished timber veneers in combination with crisp, large-format porcelain sheets. In the living room, bespoke joinery exploits the depth of recycled brick walls, creating pockets of storage along the edges of the tightly constrained site. Flush finishes form continuous planes from inside to out, creating one large living space that expands to fill the outdoor side alley.
These new living spaces are open to the outdoors, yet tempered from the strong northern sun by the depth of a black steel awning, detailed so that it appears to float over the rear timber deck. In a minimal and modern interpretation of a traditional verandah, its glossy surface reflects the garden into the house.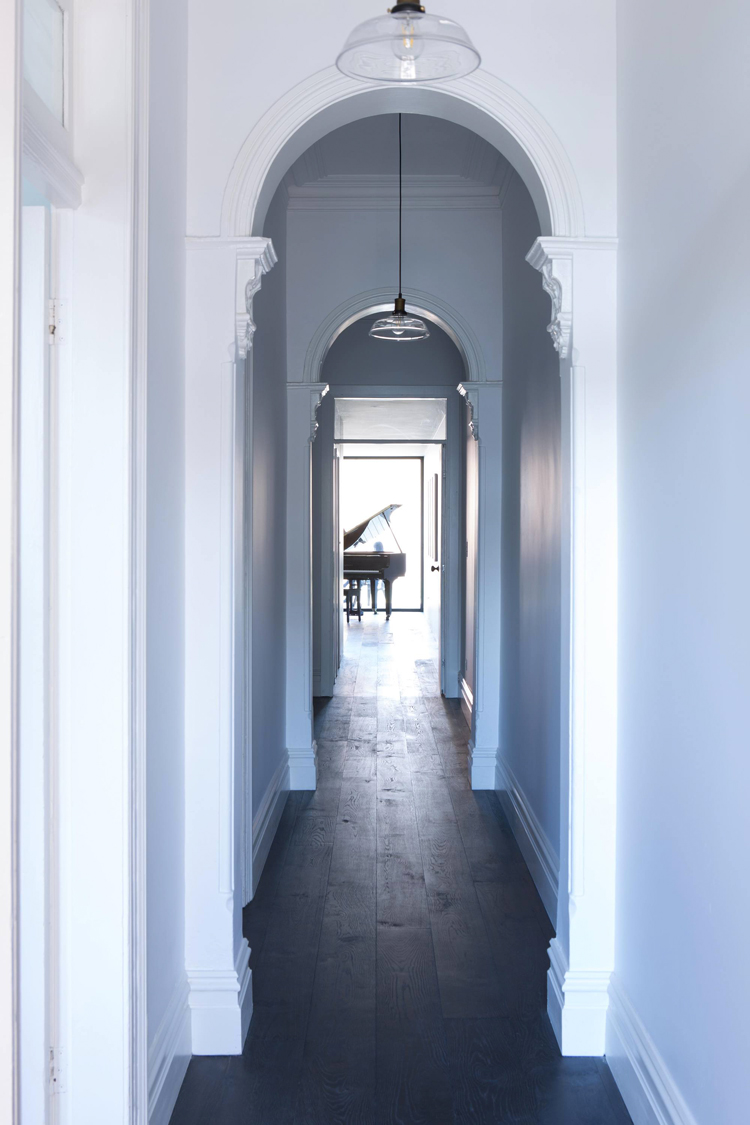 all images © Brett Boardman