Barcelona-based interior designer Francesc Rifé has transformed a historical site in Valencia, Spain, to host Sucede, a new contemporary restaurant helmed by Michelin-starred chef Miguel Ángel Mayor. "Design through history is the most honest form of design," says Francesc Rifé.
On the basis of an old restaurant designed by the studio in the Carmen district of Valencia, the challenge was to imagine a new spatial narrative to illustrate the cuisine of the chef Miguel Ángel Mayor. The new intervention echoes the memory of the space with a distribution that serves the historical elements, while a sober green color envelops the visitor in a slow and deep atmosphere.
With the new image and organization, the guests become actors in a scenario tracing the history of the city. The area of access and transition welcomes you through a composition of furniture with convivial and ergonomic lines followed by a dining room that hosts the first menu's act, placing tables in front of the chef's performance bar.
With a glazed roof covering a series of black-stained oak slats, the natural light is added to the top floor. The two-level distribution of these first environments is marked by the remains of the old Arab wall of Valencia, which during the 12th century delimited the perimeter of the city. The foundations of its exterior facade and one of its watchtowers now surround one of the rooms, also available for small events and meetings.
To reach the main dining room, you have to cross a corridor that shows the cellar through a translucent gray smoked glass. A Gothic arch, preceded by an important presence of "Half of Milan Iluminación" lamps, presides the room with strategic vertical openings and skylights that give this basement a natural light throughout the day.
In search of good acoustic quality and a spatially wide sensation, the tables are distributed peripherally, leaving in the center a supporting point for the chef to operate in front of the guests in the second act of the gastronomic process. Fully integrated spotlights allow the tables to be illuminated according to the needs; without ignoring the great historical wall that crosses the space, an indirect zenith light is projected.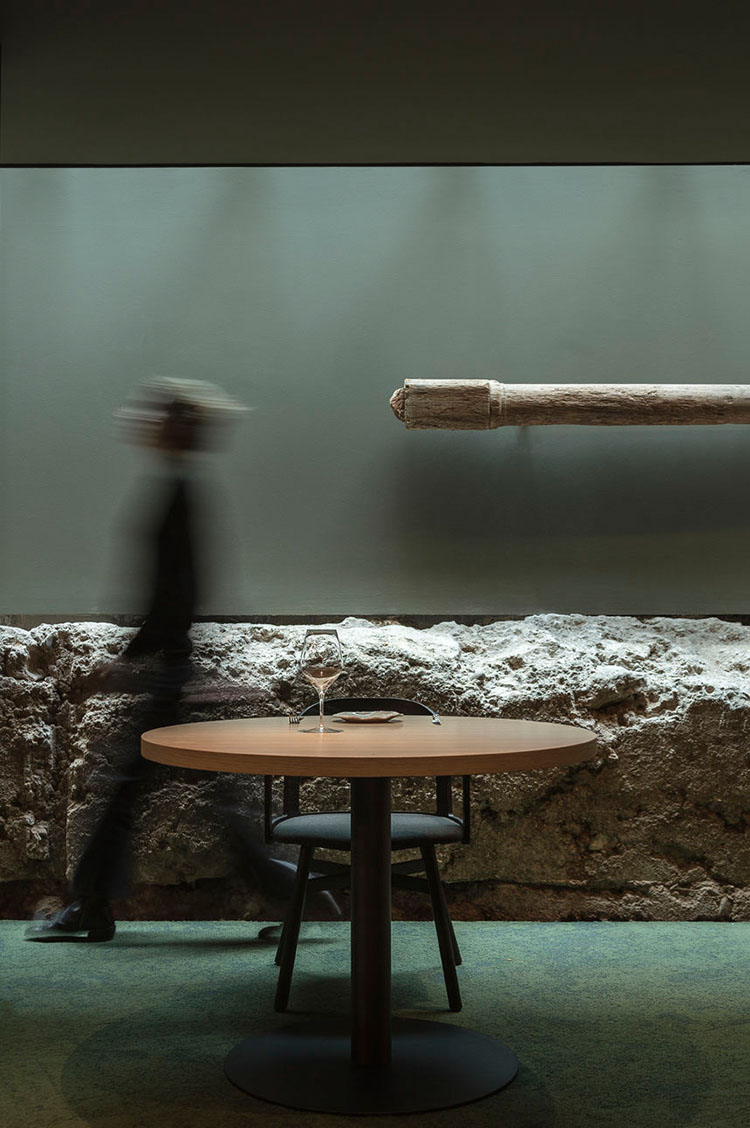 A succession of historic Valencian ceramics, dates from the 16th, 17th and 18th centuries, is organized throughout the space. The choice of traditional elements seeks to reintegrate the archaic while creates balance with the greenish monochrome tonality that dresses the space both in walls, ceilings and through a carpet that serves as an instrument of warmth.