San-Francisco based tech company Molekule has conceived the world's first molecular air purifier. Molekule's patented technology brings a fundamentally new approach to air purification by completely eliminating the full spectrum of indoor pollutants, breaking them down on a molecular level.
The E.P.A. estimates that the air indoors can be up to five times more polluted than outdoor air. On average, people spend 90 percent of their time indoors and are exposed to harmful pollutants that affect everyone.
Current air purifying technologies like HEPA rely on filters that capture and collect pollutants, where they can accumulate, multiply and eventually get released back into the air. Molekule's technology is capable of eliminating pollutants 1000 times smaller than what current filters can catch. By fully eliminating indoor air pollutants, Molekule doesn't just offer noticeable relief to asthma and allergy sufferers but provides a safe living environment for everyone.
Molekule is carefully designed to seamlessly integrate into today's living environments. It's technology allows Molekule to work extremely fast and quiet while it cleans and recirculates the air of a 600 square foot room every 60 minutes. Molekule can be connected to Wi-Fi for the device to become smarter over time and respond to the individual needs of people's household. The companion iOS app allows you to control the device remotely and seamlessly manage filter replacements.
A limited quantity of Molekule air purifiers will be available for pre-order at a special price of $499 USD with one year of filters free. Then, Molekule will retail for $799 USD and ship in early 2017. Based on usage and the environment, the device automatically determines when filters need to be replaced and comes with intelligent filter replacement. Filters will be automatically mailed to consumers for an annual at rate of $99 USD a year.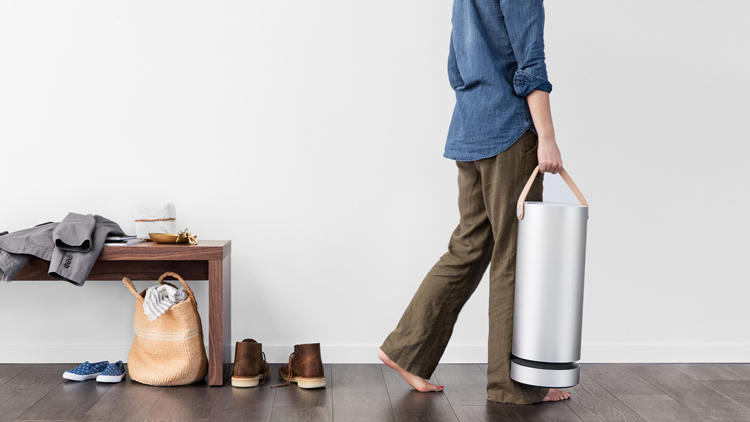 all images and video courtesy of Molekule
Comments
comments