Space-saving beds are a must when you only have a small amount of bedroom space to work with. While we'd all love to have a massive, sprawling bedroom with enough room for a queen-size bed, double wardrobe and an armchair in the corner, it's not always possible, and sometimes you've just got to make the most of what you've got. Thankfully, small bedrooms can be really trendy and you also have the added benefit of a really cosy space when you get the right furniture and furnishings in. These bed solutions will help you save a ton of space and make sure that you're getting the most out of every inch of your small room. 
Murphy Beds
Murphy beds are some of the best options out there if you really need to save space. The classic Murphy bed will fold up and down so that you can hide it away during the day and pull it out at night, making it an ideal option for a studio flat where you might not want your bed on show if you've got visitors coming round, or just want more space to work with during the day while you're awake. The beds are built on gas pistons so they're safe and there's no risk of it falling on you. 
There are loads of different design styles to choose from. Some Murphy beds allow the option of built-in storage behind the bed, which can be really useful if you want somewhere neat and tidy to put your things in a small room. They can be mounted vertically or horizontally, which is a good option for a room with a low ceiling. 
Sofa Beds
If you're living in a studio apartment or renting a room that you want to double up as a living room during the day and a bedroom during the night, a sectional sleeper sofa is a great option. It's also an ideal choice for a small guest room in your home, or even for in the living room if you don't have a spare room but want to invite a guest to stay the night. You can find several comfortable sofa beds on offer and there are many different styles to choose from. The pull-out style is a popular choice as you simply pull the bed out from the sofa cushions, which extend and then fold back into place when you want to use it as a sofa again.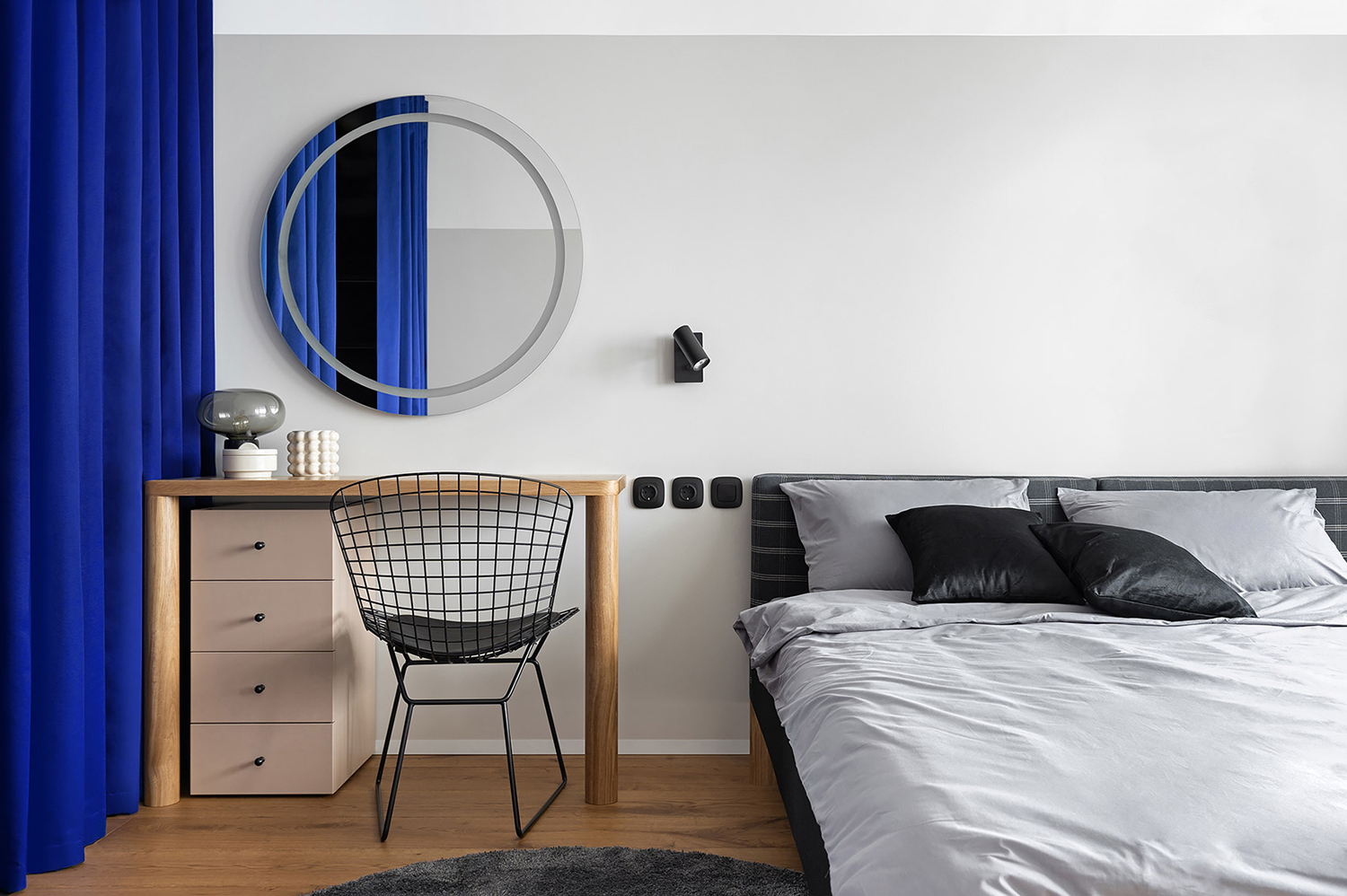 Ottoman Beds
If you've got enough room for a standard bed in your room but won't have much space left for storage once it's there, an ottoman bed could be the perfect solution for you. These beds are designed so that the mattress lifts up, providing you with all that floor space to store your things in a neat and tidy manner tucked away under the bed. Even if you have wardrobe space or space for a chest of drawers, it's always worth getting an ottoman bed as they can really come in handy for storing clothes you won't be wearing for a while like your winter jumpers in the summer, or pillowcases, sheets and duvet covers. 
Most ottoman beds come as a bedframe and you will be required to buy the mattress separately. There are several size options available including single, small double, double, king, super king and queen size; measure your room before you buy to help you determine the right size of bed for you. The mattress size guide from Mattress Next Day might help you choose; Mattress Next Day also has a wide range of memory foam and other supportive mattresses on offer that will go perfectly with your ottoman bed. Visit their site at mattressnextday.co.uk. 
Twin Bed
If there's only you sleeping in your room and you don't really want to sleep in a single bed, then a twin or small double bed can save you a lot more space compared to a double or king-size, while still giving you plenty of space to be comfortable at night. Small double beds save around six inches of space compared to a double, and while you might not really notice that much of a difference when you're sleeping in it on your own, you will definitely notice the amount of space that it saves in your room. Why not invest in a small double bed with an ottoman lift or drawers built into the base, so that you can benefit from even more storage space?
Day Beds
Day beds can be a nice idea for a small guest room or for a children's room. Since they're quite small, they're not usually recommended for adults to sleep on all the time, but they can make great beds for little ones or for guests to use from time to time. These beds have a horizontal bedframe along one side so that they can be used as a sofa during the day as well. Some day beds even have a pull-out mattress that slots underneath it neatly when not in use, which is perfect for sleepovers with friends.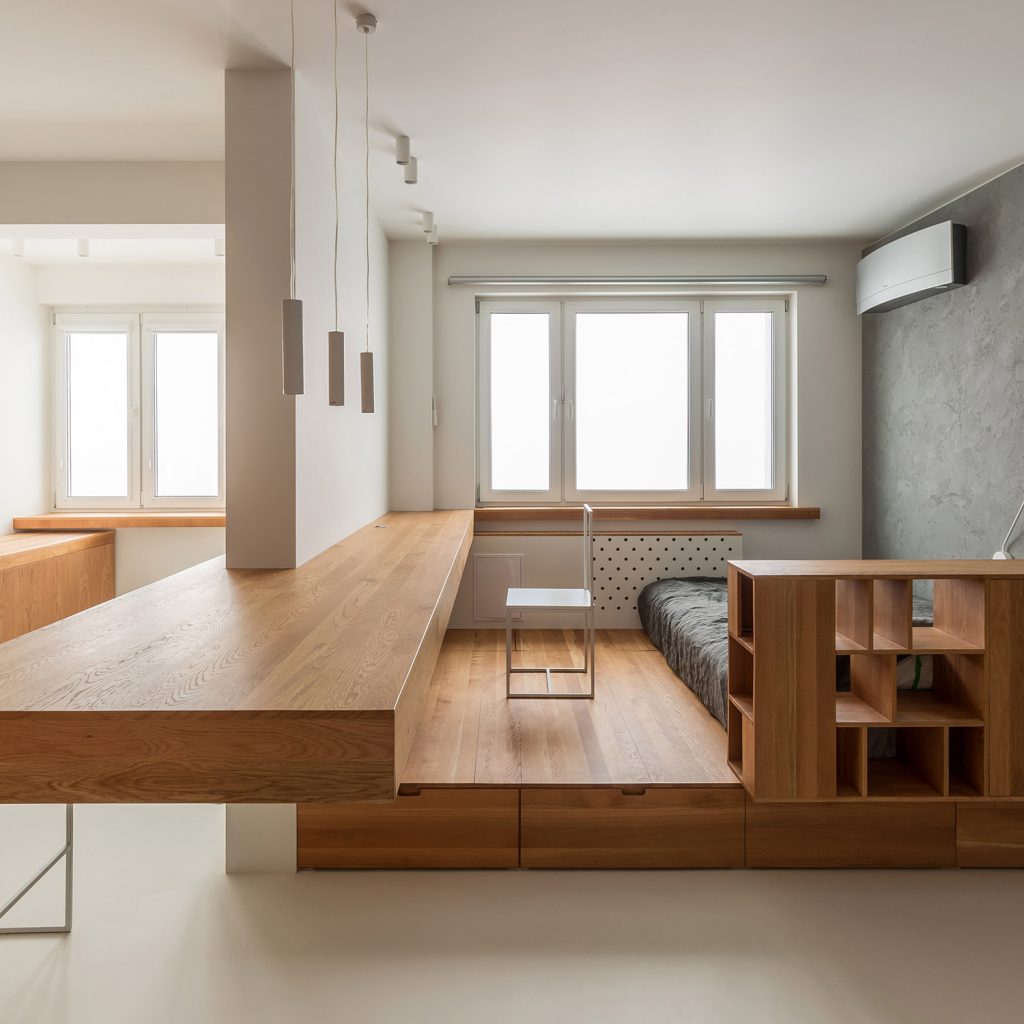 Sleeping Lofts
If you have a room or a studio flat with a high ceiling, one great option is to 'hide' the bed under the ceiling and utilise all that extra space that you have. While a sleeping loft is a little harder to construct than the other bed options and you'll need to get your measurements exact in order to build it safely, it's not difficult to do if you have some knowledge of DIY, or you could hire a professional to build the bed for you. You will need to build a platform on which to place your bed and make sure that it is sturdy enough to hold your weight before adding ladders. It's a little bit like a bunk bed for adults; you can utilise the space underneath as a seating area, for storing clothes, a workspace or anything else that you like. 
How Much Space Should You Leave Around the Bed?
When choosing the right bed for your space, consider how much space will be left around the bed. you need around three feet of space on at least one side of the bed in order to easily access it; this allows you to place the bed up against the wall on one side to save space if you need to. Remember that this is a general rule and you may need more or less space depending on your body size and how the bed is constructed. For lower beds, you may not need as much space around the bed area since it is much easier to get around and onto compared to a tall bed or a platform bed. 
More Space-Saving Tips for the Bedroom
Along with choosing an optimally sized bed, there are plenty of other ways to save some space in your bedroom. You could install shelves below the ceiling above the door into your bedroom, or get a shoe rack or mirror that hooks over the top of the door. Clearing out your wardrobe can leave you with a lesser need for storage space, and a clothes rail rather than a full wardrobe will usually take up less space in the room. Finally, paint your room in bright colours to make it appear larger. 
Which of these beds would you prefer to have in your bedroom? We'd love to hear from you in the comments.