Do you need to make a gift? We have the perfect and original gift, personalised plaques with your own Spotify design are one of the most original gifts you can buy. This is a unique, handmade product which has just launched on the market, formed of a methacrylate plaque, to which you can add an image and a song.
It features a kind of music player, similar to Spotify, allowing you to press play whenever you like. Discover how to get yours and how much it costs!
The perfect gift for you and your loved ones!
This plaque makes a perfect gift for yourself, or for your partner or friends. Choose that song you love and can't get enough of, your favourite track, or, if you're in a band, promote your own song. 
Each Spotify plaque is produced in Spain. What's more, they are handmade by experienced artisans, having spent many years working in the sector. Likewise, to ensure that the printed plaques meet the highest standards of quality, only the most advanced technology is used. 
The material used in the production of this personalised plaque is methacrylate. Similar to glass – at least in texture and finish – its main advantage is its high resistance. As a result, should your plaque fall to the floor, it won't break. What's more, it's a very lightweight product.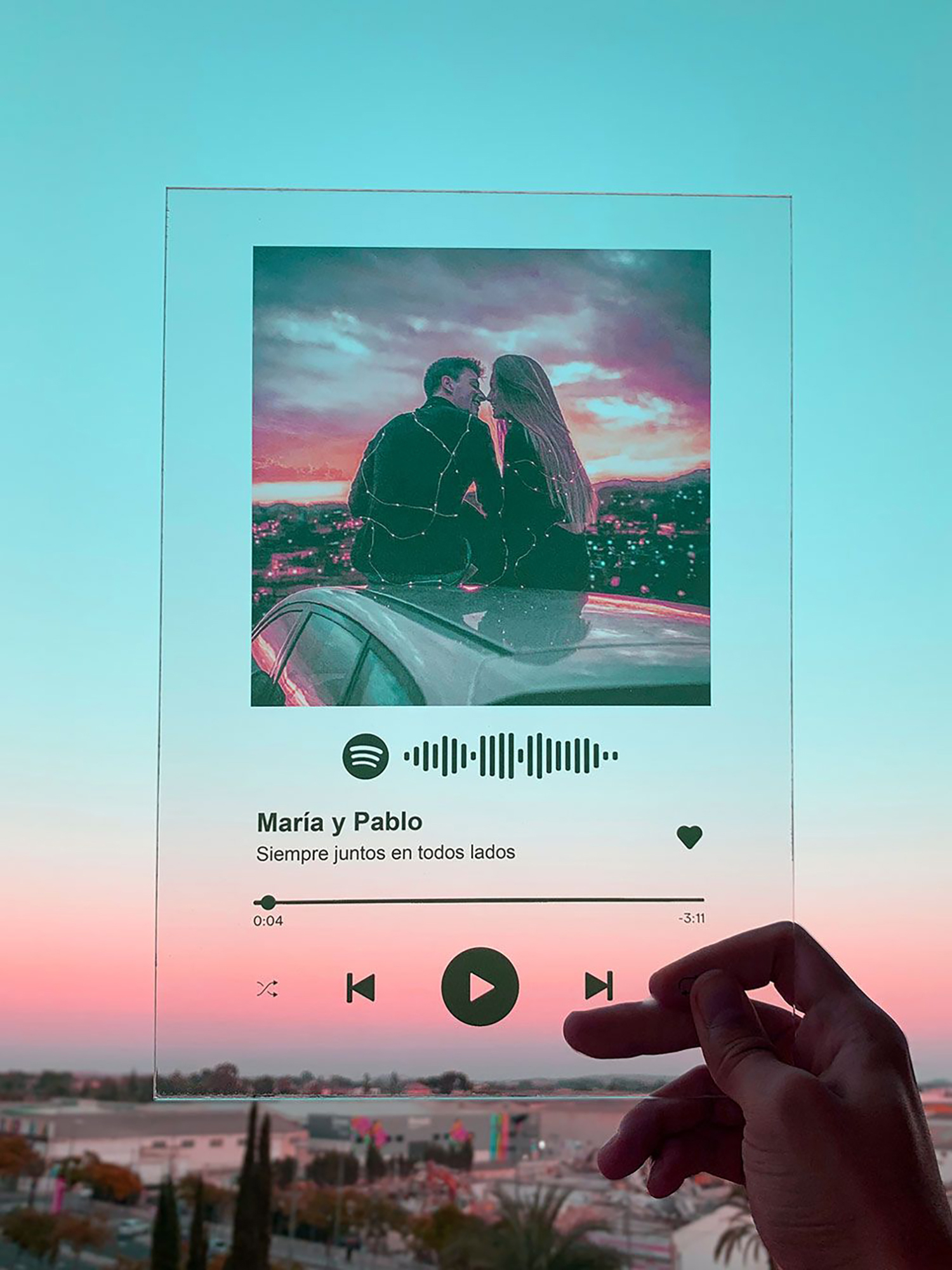 Where can you get this product?
Transparent Gift is the brand responsible for making these premium-quality products, available from €17.99. Their aim is to create personalised, handmade gifts, to satisfy your tastes and preferences. They're one of the most unique gifts you can find today. Furthermore, their excellent quality will amaze you: you won't be disappointed. 
To get your Spotify Glass, all you need to do is visit their website and place your order. It takes just a few minutes, and in 4-5 days it will arrive at your home – unless you choose express shipping, in which case you'll receive your item in 24-48 hours.  
How do you customise your Spotify plaque?
It's really simple. When it comes to personalising your Spotify plaque, all you need to do is enter the name of the song you want to add, and you'll be able to see the result immediately. 
For the image, you can choose from two options: add the default image that comes with your chosen Spotify image, or personalise your plaque by uploading your chosen image. The only limit is your imagination: you can choose any photo you wish.   
It's also possible to edit the text and add the song and artist name. What's more, you can choose a song using its Spotify code, allowing you to play the song using your phone's camera button.  
If you want to make any last-minute changes, get in touch with the customer service team as soon as possible to allow them to make changes before beginning production. If you're interested in purchasing five or more Spotify plaques, you should also get in touch with the team, who will be happy to offer you a discount.