As employees return to the office everywhere, they will be using office space differently than before. Despite them wanting the freedom to work remotely, many companies still find it necessary for workers to come into the office part of the week to collaborate and focus on deep work.
With this trend in mind, the hybrid office design gives workers the flexibility to visit the workplace on certain days – reducing overhead costs for employers. Instead of having a dedicated workspace for each employee, companies can make them reservable.
The hybrid office trend was already establishing popularity, but it's exploded since the post-pandemic era. Now, 57% of companies are building offices and tweaking designs specifically for workers to collaborate.
Here's a closer look at what hybrid offices will look like in the near future.
1. Functional Workspaces for Team Collaboration
Some architecture firms had already begun designing hybrid offices before the pandemic started. Researchers were able to study office behaviors and take what they learned to optimize future office spaces for the growth of remote work — even before telecommuting expanded rapidly to meet health needs.
Team collaboration is an essential consideration for hybrid spaces. They need to feature limited capacity, flexible furniture, a common area as a large open space, work zones for collaboration, and unassigned seating.
For many companies, unassigned seating could be a challenge in the beginning. However, it tends to make sense to have more variety in the work settings that offer collaboration, allowing teams to come together.
2. Incorporating Technology in Conference Rooms
Many companies are designing post-COVID hybrid offices where meeting spaces have specific designs for conferences. The conference rooms will have equipment with technology, allowing visitors to interact with people in person and virtually.
This kind of space features a large screen, high-quality speakers, and webcams to give virtual attendees the feeling of being in the middle of the action.
Once employees get back to the office, companies will experience a dramatic increase in productivity and have the ability to collaborate more seamlessly.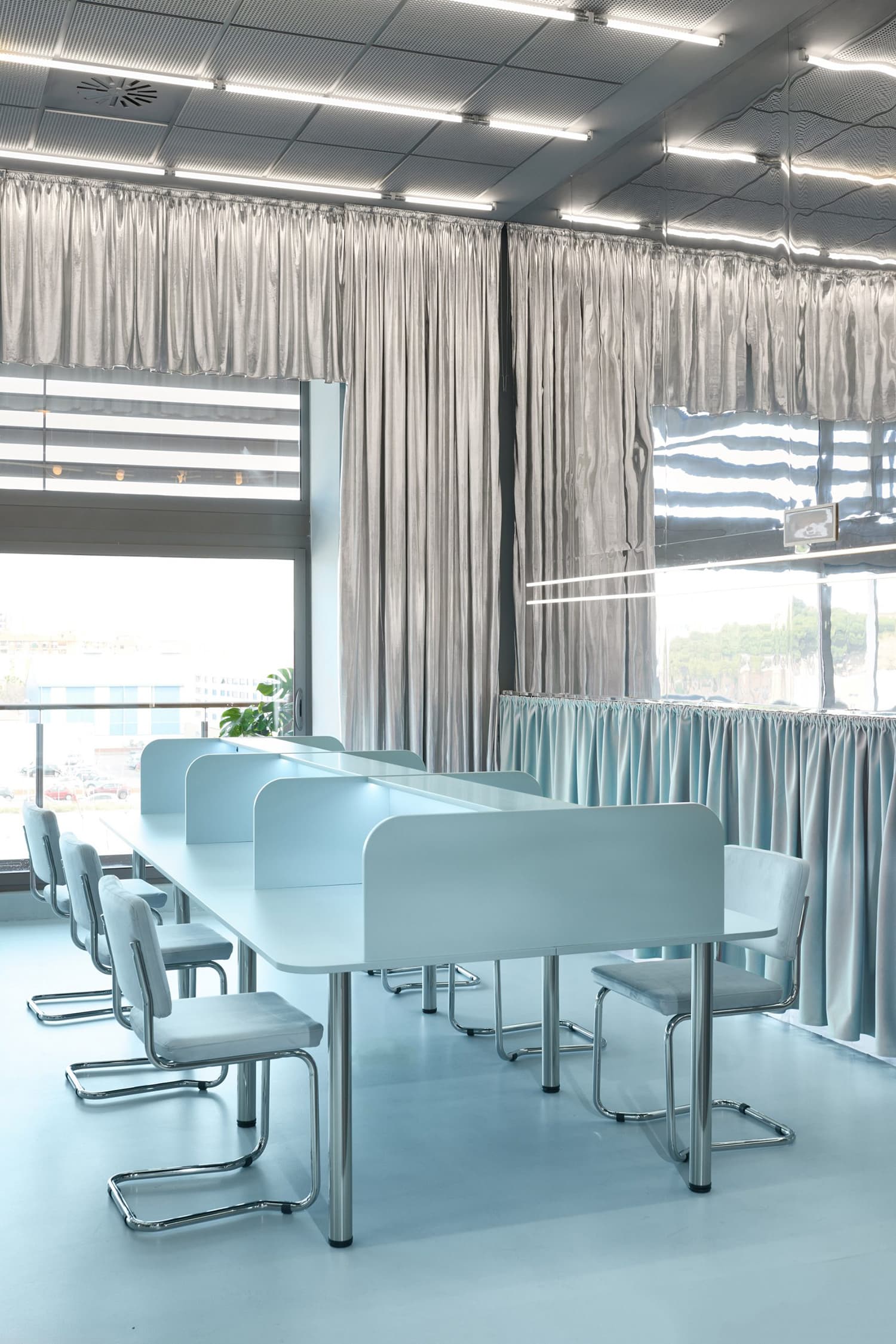 3. Playful Areas and Office Amenities
Companies like LEGO were already supporting a hybrid office environment before the pandemic. The headquarters' design by C.F. Moller Architects adds functionality by using LEGO brick shapes to offer a playful feel. Its roof is covered with solar panels to power half the campus, and it provides plenty of leisure spaces for employees.
The company incorporated outdoor parks, play areas, lounges for collaboration, an auditorium, a fitness center, and a café.
Checkr, a tech company, also wanted a hybrid office space to reflect its young and innovative company culture. The company hired a design studio to create donut-shaped office spaces. It also has break areas on each floor to encourage employees to move around freely.
Moreover, its office design features a yoga lounge, jazz bar, and a multi-purpose cafe – with floor-to-ceiling windows for sufficient natural lighting.
4. Welcoming Design
Some companies are introducing a hybrid workplace that offers a welcoming environment for employees and clients. Design firms accomplish this by giving offices more functionality with a modern appeal.
These hybrid office designs include various meeting areas and large workspaces for sessions with clients. Other workspaces allow employees to reserve private phone booths to make calls or work quietly.
In addition, plant life within the center of a building connects employees and visitors to nature.
5. Coworking Spaces
Companies like The Coven offer coworking spaces for women, transgender, and non-binary people – emphasizing female empowerment in its hybrid office design. The design firm, Studio BV, created an office space that features soft, colorful furniture, decorative lighting, and custom mosaic flooring. The walls also have artwork created by female artists.
Another coworking company built over 100 locations specifically for hybrid work. Industrious allows companies to reserve spaces for small groups of employees who need office space without a long-term lease commitment.
One office location features a desert landscape, metal elements, and warm wood accents. It also has a mixture of desk spaces designated for solo work and comfortable seating for collaboration.
Designing a Hybrid Office Space
A hybrid office is constantly adapting and supporting employees' changing needs. To understand proper space utilization, companies can evaluate employee feedback and gain valuable insights.
Furthermore, architecture firms are also leveraging data by using sensors to measure peak occupancy, average daily occupancy, and frequency of usage of private spaces compared to collaborative ones. Based on the information, companies can make adjustments accordingly and add more space if needed.
Author: Evelyn Long is the editor-in-chief of Renovated. Her work focuses on interior and architectural design and has been published by Build Magazine, the National Association of REALTORS and other online publications.